If you are feeling pain, pressure, tightness, or a squeezing sensation in the center of your chest, it could be due to angina. Angina or angina pectoris is a condition caused by reduced blood flow to the heart muscle.
There 4 different types of angina:
Stable angina is the most common, and is usually triggered by stress or physical activity. This type of angina typically only lasts a few minutes then goes away. It can also be a sign that you could have a heart attack in the future, so it is important to see a medical professional about your symptoms.
Unstable angina happens when you are at rest or not doing much physical activity. The pain from this type of angina is typically stronger, lasts longer, and is recurring. Unstable angina can be a sign that you are about to have a heart attack, and you should seek medical treatment immediately.
Prinzmetal's angina or variant angina is a rare type of angina that can happen during sleep or rest. This type of angina causes the heart's arteries to tighten, producing a lot of pain.
Microvascular angina can be a symptom of coronary microvascular disease and typically causes chest pain that lasts longer than 10 minutes and can even last up to 30 minutes.
Symptoms You Need to Know
Symptoms of angina can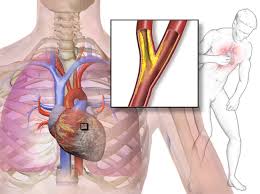 vary depending type and the sex of the person experiencing them, but for the most part, symptoms include:
Chest pain
Pain in arms, neck, jaw, shoulder, or back along with chest pain
Fatigue
Nausea
Sweating
Dizziness
Shortness of breath
Because it can be hard to distinguish the symptoms of angina from the symptoms of other serious heart conditions, you should seek medical treatment as soon as you begin experiencing them. If your chest pain lasts longer than a few minutes and does not ease with rest, it could be a sign of a heart attack, and you should call 911 immediately.
If your chest pain is brief and you think you could have stable angina, you can have your symptoms checked out by a medical professional at FastMed Urgent Care. We are open 365 days a year with extended hours, making it easy for you to get the medical treatment you need at a time that fits your daily schedule.
About FastMed
FastMed Urgent Care owns and operates nearly 200 centers in North Carolina, Arizona and Texas that provide a broad range of acute/episodic and preventive healthcare services 365 days a year. FastMed also provides workers' compensation and other occupational health services at all its centers, and family and sports medicine services at select locations. FastMed has successfully treated more than six million patients and is the only independent urgent care operator in North Carolina, Arizona and Texas to be awarded The Joint Commission's Gold Seal of Approval® for quality, safety and infection control in ambulatory healthcare. For more information about locations, services, hours of operation, insurance and prices, visit www.fastmed.com.