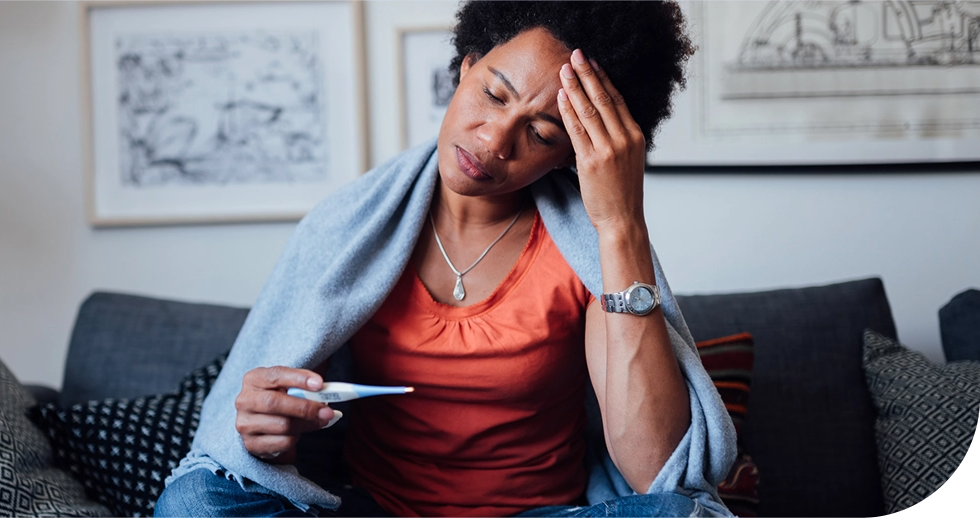 The Omicron variant is the most dominant strain of COVID-19 in the United States, and it's far more infectious than any other variant.
What is the Omicron variant, and how does it impact our fight against COVID-19? Is there an Omicron vaccine to protect us? What Omicron variant symptoms are cause for concern? FastMed is here to answer your questions and help keep you and your family safe.
The history of the Omicron variant
COVID-19 is a worldwide pandemic, and the development of the Omicron variant of SARS-CoV-2 – the virus that causes COVID-19 – is no exception.
The Omicron variant was first reported in South Africa in late November 2021 and rapidly spread to 80 countries, including the United States, in a matter of weeks. The Centers for Disease Control and Prevention (CDC) reports that as of December 20, 2021, the Omicron variant had already been detected in most U.S. states and territories.
Because this new COVID-19 variant is just that, health organizations are still learning about the hospitalization and death rates for Omicron. So far, most of this data has come from South Africa, where the variant originated and where hospitalization rates have increased. However, more data is needed to confirm if Omicron infections – especially recurring infections and breakthrough infections in people who are fully vaccinated – cause more hospitalization or death than other variants.
A big "Oh No" about Omicron
The greatest concern about Omicron and COVID-19 is the infection rate of this new COVID-19 variant. Omicron seems to be the most infectious variant to date. In other words, a person with the Omicron variant will likely infect 2-3 times more people than they would with other variants.
The CDC expects anyone infected with the Omicron variant to spread the virus to others, even if they are vaccinated and don't have symptoms. We also can't count on natural immunity from a prior COVID-19 infection to protect us from the Omicron variant. According to the Mayo Clinic, more people are having recurring infections with the Omicron variant, whether they were previously infected with COVID-19 or not.
How vaccines help
There are no specific Omicron vaccines, and we know that our current vaccines have lower protection against Omicron than they do against earlier variants. However, recent data shows that today's vaccines provide about 70% protection against severe disease caused by the Omicron variant, which is still very promising.
Vaccines continue to effectively prevent severe illness, hospitalization, and death from other COVID-19 variants. The emergence of the Omicron variant means that vaccines and boosters are more essential than ever, especially as breakthrough infections of Omicron continue to occur. Unvaccinated people are still at highest risk for severe illness due to any COVID infection.
Because we don't yet know how the Omicron variant will affect kids, vaccines are also recommended for all eligible children ages five and up.
Omicron variant symptoms
Researchers are finding that a majority of people infected by the Omicron variant experience the one or all of the symptoms listed below. For many, being vaccinated seems to change this potentially severe disease to a milder infection.
Some common Omicron variant symptoms include:
Sneezing
Runny nose
Sore throat
Headache
Fatigue
By comparison, common symptoms of the original strain of COVID-19 include fever, cough, difficulty breathing, and loss of smell or taste, among others.
Even if the individual risk for severe disease is lower with Omicron than other variants, the higher rate of associated cases can still result in high numbers of hospitalizations and excess burden on the health care system. With Omicron, we are also seeing many patients with either prolonged COVID-19 symptoms (post acute sequelae SARS-CoV-2 infection) or a rebound of symptoms.
Is It Omicron or a cold?
Because the Omicron variant tends to produce milder symptoms, especially in people who are vaccinated, it can be difficult to tell if you're infected with Omicron or simply have a cold.
It may sound like a cold. It may feel like a cold. But with so many overlapping symptoms, there's no way to distinguish between COVID-19 and your basic respiratory virus without getting tested. The Omicron variant is so infectious that it's worth knowing if your cold symptoms are actually Omicron variant symptoms, so you can isolate accordingly to protect those around you.
Milder symptoms but more cases
Terms like "milder" and "less severe" can have dangerous implications when it comes to COVID-19. From a statistics standpoint, the Omicron variant may be just as deadly as Delta, even if it causes milder disease. The key is the number of people who get infected.
For example, say that COVID-19 has a fatality rate of 1%. If you have 100 people who get infected, the result is one death. If Omicron's fatality rate is just .25% but it spreads to 400 people, the result is the same: one death. The high infection rate of the Omicron variant continues to be of great concern, despite the milder symptoms it causes.
Melissa Ernst, FastMed Nurse Practitioner, has this advice for those experiencing symptoms, regardless of vaccination status or personal risk factor — "If you are experiencing symptoms of COVID-19, the CDC recommends that you isolate for 5 days. During your isolation time, stay active, stay well hydrated, and eat small frequent meals even if you are not hungry. Most symptoms of the Omicron COVID-19 variant can be managed with over-the-counter medications such as Tylenol or ibuprofen for fever and Robitussin for cough. If you feel your symptoms are worsening, we recommend you be evaluated by a medical professional. Prevention is the key!"
Protect yourself by getting vaccinated and boosted
If you aren't vaccinated, there's never been a better time to do so. And if you are vaccinated but haven't gotten your booster yet, take this opportunity now. A booster can greatly improve your antibody response to Omicron and other variants of the COVID-19 virus – often better than the second dose of your vaccine. Boosters are especially important for elderly people or those who are immunocompromised.
FastMed is proud to join the fight against COVID-19 by offering COVID-19 vaccines and boosters at select clinics while supplies last. Visit our COVID-19 vaccine locations in:
Arizona
Florida
North Carolina
Texas
Protect others by getting tested
FastMed also offers convenient COVID-19 diagnostic testing (including rapid tests) and antibody testing* at all FastMed clinic locations. With extended office hours, the ability to schedule a visit online and neighborhood clinics throughout Arizona, California, Florida, North Carolina and Texas, FastMed is here to take care of you and your family.
COVID-19 diagnostic tests check for a current infection by detecting the virus's genetic material in respiratory secretions. You should get tested if you are experiencing symptoms–including milder Omicron variant symptoms–or have been in close contact with anyone else who tested positive for COVID-19.
If you are one of the millions of Americans with a chronic condition such as diabetes, cancer, or heart disease, FastMed Certified Nurse Practitioner, Sara Routzahn, encourages alerting your primary care provider if you become infected with COVID-19 should additional care be recommended. If you are near one of FastMed's Family Medicine clinics in North Carolina, one of our providers can assist with routine visits and sick visits to meet all your chronic condition management needs.
Other ways to fight Omicron
In addition to getting vaccinated and boosted and testing whenever you experience symptoms, there are other ways to help fight against the Omicron variant. Wearing a mask, washing your hands, avoiding crowded indoor spaces, and keeping a safe distance from others can all help prevent the spread of COVID-19, the Omicron variant, and whatever other variants may come in the future.
*Antibody testing is not currently available at CareSpot (Florida) or MedPost (California, Texas) clinic locations.
About FastMed
FastMed Urgent Care owns and operates nearly 200 clinics in Arizona, California, Florida, North Carolina, and Texas that provide a broad range of acute/episodic and preventive healthcare services 365 days a year. FastMed also provides workers' compensation and other occupational health services at all its clinics, and family and sports medicine services at select locations. FastMed has successfully treated more than six million patients and is the only independent urgent care operator in Arizona, North Carolina, and Texas to be awarded The Joint Commission's Gold Seal of Approval® for quality, safety and infection control in ambulatory healthcare. For more information about locations, services, hours of operation, insurance and prices, visit www.fastmed.com.