If you have a sore throat, you may be wondering if strep throat is the culprit. If your sore throat is accompanied by symptoms such as fever, difficulty swallowing, or white patches on your tonsils, it could be strep throat. Keep in mind that a diagnosis if important: if it is strep throat, you'll want to immediately begin treatment.
Antibiotics for strep throat are important, for they can reduce your risk of developing serious complications. FastMed Urgent Care can test you for strep throat and provide you with the antibiotics needed to have you feeling better quickly!
Find Out if You Have Strep Throat and Receive Antibiotic Treatment at FastMed Urgent Care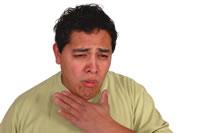 Once your doctor confirms you have strep throat, he or she will likely prescribe you an oral antibiotic, usually penicillin or amoxicillin. If you are allergic to penicillin, you may be prescribed the following medications:
A cephalosporin, such as cephalexin (Keflex)
Clarithromycin (Biaxin)
Azithromycin (Zithromax, Zmax)
Clindamycin
Taking antibiotics for strep throat can help prevent you from developing serious, and sometimes life-threatening, conditions, such as:
Spread of infection to other areas in the body
Scarlet fever
Inflammation of the kidney
Rheumatic fever
Antibiotics can shorten the duration and severity of your symptoms, as well as shorten the amount of time you are contagious. Once you begin your antibiotics for strep throat, you should start to feel better after a few days.
FastMed can diagnose strep throat in just 10 minutes!
Our on-site labs enable us to perform a "rapid strep test," which yields results in as few as 10 minutes. Getting antibiotics for strep throat is easy at FastMed. We are open 7 days a week, 365 days a year, making it easy for you to be seen at a time that works for you. If you have any other questions, contact us. We're happy to help!