Bleeding under the skin can appear as a bruise or a flat black and blue patch under the skin. The discolored skin is caused by broken blood vessels leaking blood into the tissues that have been injured. If you have bleeding under the skin that is not the result of an apparent injury, it may be the sign of a serious medical condition or disease.
Common Causes of Internal Bleeding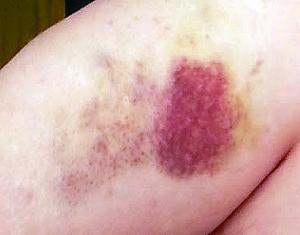 Bleeding under the skin that is not caused by an injury can appear as small red or purple dots called petechiae, or in larger flat patches called purpura. There are some common causes of bleeding under the skin that do not necessarily require medical attention, such as a bump, a minor fall, or the normal aging process.
Bruising can also result from:
An allergic reaction
Side effects from aspirin, blood thinners, or other medications
Chemotherapy side effects
Radiation side effects
Signs of a Bleeding Disorder
A sudden increase in the number of unexplained bruises may be a warning sign of a serious disease or medical disorder, such as:
Infections in the blood
Autoimmune disorders
Blood clotting disorder
Lupus
Certain types of cancer like Hodgkin's disease, leukemia, or multiple myeloma
Vasculitis (inflammation of blood vessels)
Deficiencies in vitamins B12, C, K, or folic acid
You should seek medical attention if you notice more bruises appearing for no apparent reason. Also, see a healthcare provider immediately if bleeding under the skin is accompanied by:
Severe pain in the affected area
Bleeding through the skin
Darkening of the affected skin
Swelling in your extremities
Find the Cause of Your Internal Bleeding at FastMed Urgent Care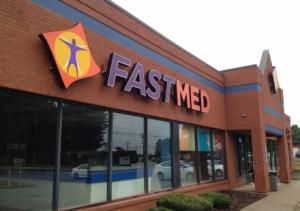 If you want high-quality medical care without the hassle of appointments or a long wait, stop by your local FastMed Urgent Care. We are open 365 days a year (with location-specific holiday hours) and offered extended weekday hours for your convenience.
You never need an appointment at FastMed Urgent Care. A member of our highly-qualified medical team will examine your bruises and ask a number of questions to determine the cause of the bleeding under your skin. Be prepared to tell the FastMed Urgent Care medical professional if you are taking any supplements or medications such as aspirin, steroids, or blood thinners.
Our state-of-the-art facilities include a range of diagnostic testing equipment to get to the root of your condition fast and get you on your way. Don't just take our word for it, though. Check out what Gayle C. had to say about her experience: "The urgent care center was terrific! The staff delivered exactly what I needed: professional care and personal attention – and they delivered it with care and kindness. Urgent Care is on my radar as an integral part of my community and I have given several enthusiastic recommendations to friends and work associates. Thank you!"
———–
Sources:
Healthline: https://www.healthline.com/health/bleeding-into-the-skin
WebMD: https://www.webmd.com/first-aid/tc/bruises-and-blood-spots-under-the-skin-topic-overview