Blood clots, or deep vein thrombosis, commonly occur in people who recently underwent surgery, suffered an injury, or have mobility issues. Blood clots are a serious, and it is important to recognize the signs and symptoms, as well as seek medical treatment immediately.
If you think you could have a blood clot in your arm, leg, or other part of your body, go to the emergency room immediately.
If you think you may be at risk for a blood clot, but aren't sure, come to FastMed to speak with one of our medical professionals. We can talk to you about blood clots and teach you about some great ways to recognize and prevent them.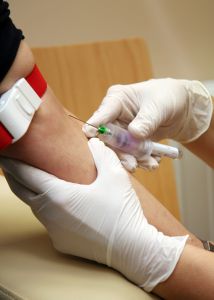 Am I at Risk for a Blood Clot?
Are over 60? Do you smoke? Are you overweight? Sit for long periods of time?
If you answered yes to any of those questions, you may want to pay special attention to the symptoms of a blood clot:
A warm spot on your leg
Soreness or pain in your arm or leg
Skin redness
New swelling in your arm or leg
In order to diagnose a blood clot, your physician will likely ask about your health, medical history, and symptoms, then perform a physical exam. However, blood clot symptoms can often mirror those of other conditions, so you will likely need special testing to confirm a diagnosis.
Can I Prevent a Blood Clot?
If you believe you are at risk for a blood clot in your arm or leg, there are a few things you can do to prevent one from occurring:
Changing your position often (especially during a long trip)
Eating less salt
Not sitting or standing for more than 1 hour at a time
Wearing loose fitting clothes, socks, or stockings
Occasionally raising your legs 6 inches above your heart
Exercising often
Take a proactive step towards preventing blood clots and visit a FastMed Urgent Care near you. We are open 365 days a year, making it easy for you to find time to speak with a medical professional. Want to learn more about preventative health care? Visit our online health resources center.