Calf pain can be caused by a number of conditions, including muscle cramps and blood clots. Whether your calf pain comes on gradually or suddenly can tell you a lot about the type of condition you are dealing with and help ensure you get the appropriate treatment.
Leg Pain Caused by Muscle Cramps
A muscle cramp in the calf (sometimes referred to as a charley horse) happens suddenly and causes tight, intense lower leg pain. Muscle cramps are usually caused by dehydration or tired muscles and will usually stop on their own after a few minutes. If the cramp continues, it can help to gently massage the calf muscle, apply a cool compress, or go for a short walk.
Fortunately, there are things you can do to help prevent muscle cramps from happening in the first place, including:
Increasing your magnesium intake (300mg a day is ideal)
Eating potassium-rich foods such as bananas, especially before exercising
Drinking plenty of water
Eating a well-balanced meal before running or partaking in any strenuous activities
Calf Pain Caused by Blood Clots
A blood clot is a serious medical condition that can lead to chronic swelling, pain, and even death if not properly treated. Blood clots of deep vein thrombosis (DVT) affect 300,000 to 600,000 people in the United States. DVT blood clots are most common in individuals who have recently had surgery or are taking hormone medications such as birth control or hormone replacement therapy.
The best method for determining whether or not your calf pain is caused by a blood clot is through an ultrasound, which uses sound waves to produce an image of the veins and arteries inside the leg. If a medical professional determines that you do in fact have a blood clot, he or she will likely prescribe you a blood-thinning medication and advise that you stay active.
FastMed Urgent Care Can Diagnose and Treat Calf Pain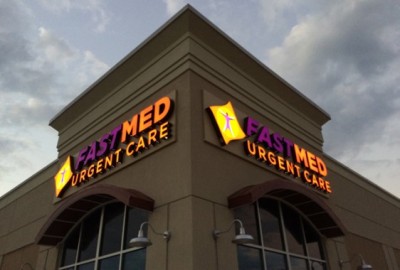 The healthcare professionals at FastMed Urgent Care are dedicated to helping every patient feel better as quickly as possible. If you or your child are experiencing calf pain, simply walk into your local FastMed Urgent Care and let us diagnose the pain and decide the best course of treatment.
We are committed to providing care that is high quality and affordable. FastMed Urgent Care accepts most major insurance plans, including Medicare and Medicaid. Check out our Insurance page to verify that your plan is accepted, and stop in your local FastMed Urgent Care today!
———-
Sources:

Everyday Health: https://www.everydayhealth.com/pain-management/what-causes-leg-cramps-and-how-can-you-stop-them
Everyday Health: https://www.everydayhealth.com/news/how-do-you-know-if-its-deep-vein-thrombosis