While sunburns and flu-like symptoms are seemingly unrelated, the two actually go hand in hand. Bad sunburns (often called sun poisoning) don't just cause painful red skin, they can also make you sick.  Learn more about the symptoms of sun poisoning and how to tell if your flu-like symptoms are due to sunburn or something else.
Sunburn or Sun Poisoning?
We've all experienced red, painful sunburns, but how do you know when a normal sunburn has crossed the threshold into sun poisoning?
A regular sunburn will be red, hot, and painful, but the symptoms normally stop there. When you have sun poisoning, you will experience red, painful skin, along with other symptoms, including:
Blisters
Pain
Swelling
Tingling
Headache
Dizziness
Fever and chills
Nausea
Dehydration
Sun Poisoning Treatment and When to See a Medical Professional
Bad sunburns can typically be treated at home with these easy methods:
Stay out of the sun.
Apply a cool compress to the area or take a cool shower.
Drink extra water.
Take anti-inflammatory medications to reduce pain.
Use a moisturizer that contains aloe.
However, if you are experiencing any of the symptoms of sun poisoning, you should see a medical professional as soon as possible. They will be able to rule out any other causes, check for infection, and provide you with more treatment options.
Preventing Sun Poisoning
Sun poisoning can be easily prevented if you take the proper precautions to avoid getting sunburned. Before you head outside, remember to:
Put on sunscreen. You should cover any exposed skin with sunscreen.
Cover up. Wear a hat and UV-blocking sunglasses to protect your face and eyes from harmful UV rays.
Mind your time. The sun is strongest between 10 a.m. and 4 p.m. If you have to be outside during that time, don't forget to reapply your sunscreen, and drink plenty of water.
FastMed Urgent Care is open 7 days a week to provide you with fast treatment for non life-threatening illnesses and injuries.
At FastMed Urgent Care, our mission is to positively impact the lives of our patients and their families. Find a FastMed near you today.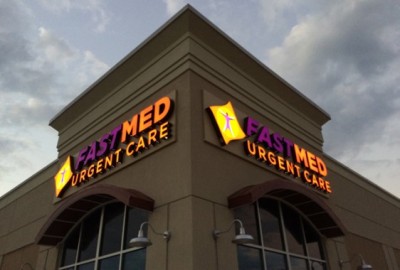 ———-
Sources:
http://www.webmd.com/skin-problems-and-treatments/sun-poisoning
http://www.webmd.com/skin-problems-and-treatments/guide/sunburn?page=2