Chest congestion is the tightness or heaviness you experience in your chest caused by an infection. These infections can be a result of a number of conditions that range from moderate to severe and include, but are not limited to, the following: the common cold, flu, bronchitis, pneumonia, tuberculosis, and congestive heart failure.
Signs and Symptoms of Chest Congestion
The most notable sign of chest congestion is the feeling of tightness in your chest that can come with pain or wheezing. Some additional symptoms that may accompany your chest congestion include:
Feeling like you need to cough
Coughing up phlegm from the lungs
Difficulty breathing
Difficulty swallowing
A gurgling sound emanating from lungs after a deep breath
Fever
General fatigue
Labored breathing
Treating Chest Congestion Based on the Cause
Although chest congestion can usually be treated at home, the infection that causes it may require the care of a medical professional. There are several remedies you can try at home to soothe your congestion and break up or dissolve mucus.
Gargle warm water, 1-2 tablespoons of salt, and a pinch of turmeric.
Take a hot shower and breathe in the warm steam.
Keep your head elevated above your torso when resting or sleeping.
Place hot pack or hot towel on your throat and chest.
Use a humidifier when sleeping or resting.
Stay hydrated with water, hot tea, or sports drinks.
Take medicine specifically for chest congestion and avoid suppressants.
If your chest congestion hasn't cleared up even after treating it, seek medical attention as soon as possible, as this may be the result of a much larger underlying issue.
Visit your nearest FastMed Urgent Care to find the true cause of your chest congestion today. To find out more about how FastMed is helping in your community, like us on Facebook and follow us on Twitter.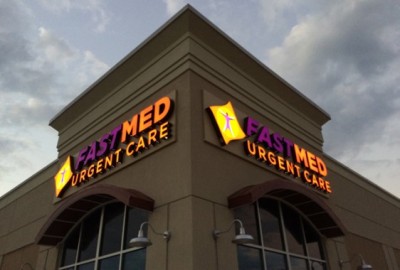 —————-
Sources:
Livestrong: https://healthfully.com/bronchitis-symptoms-with-allergies-4490977.html
WikiHow: https://www.wikihow.com/Clear-Chest-Congestion
About FastMed
FastMed Urgent Care owns and operates nearly 200 centers in North Carolina, Arizona and Texas that provide a broad range of acute/episodic and preventive healthcare services 365 days a year. FastMed also provides workers' compensation and other occupational health services at all its centers, and family and sports medicine services at select locations. FastMed has successfully treated more than six million patients and is the only independent urgent care operator in North Carolina, Arizona and Texas to be awarded The Joint Commission's Gold Seal of Approval® for quality, safety and infection control in ambulatory healthcare. For more information about locations, services, hours of operation, insurance and prices, visit www.fastmed.com.