If you're struggling with the symptoms of a chest infection, diagnosis and treatment are imperative to avoid further complications. No matter how long you've experienced the symptoms, a chest infection can take its toll on anyone. That's why it's important to understand the signs and causes of these types of illnesses, not only to avoid those complications, but to get you feeling better fast.
What Causes Chest Infections?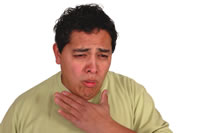 A chest infection typically takes place in the lungs, though they can also affect your sinuses, tonsils, larynx, and throat. There are two types of chest infections:
Acute Bronchitis: An infection of the large airways in the lungs, resulting from a viral infection.

Pneumonia: A serious lung infection.
The causes of chest infections can vary, though they are mostly caused by a virus or bacteria entering the affected area. Infections are most common during the winter and autumn seasons, especially after experiencing a cold or flu. However, they are more common in:
Individuals who smoke

Individuals with long-term chest problems (e.g. asthma)

Young children

Elderly
What are the Symptoms of Chest Infections?
There are many determinants (e.g. age) that affect the types of symptoms that you may experience when you get a chest infection. The most common signs of an infection include:
Difficult breathing

Coughing with brown or green-colored phlegm

Fever

Blue color around the lips

Stomach pains

Chest pains

Headaches

General aches and pains
Types of Treatments for Chest Infections
Most chest infections aren't serious, and healthy individuals can get better with just a few days of rest. One treatment you can do at home if you feel that your symptoms are not serious or life-threatening is to rest and drink plenty of fluids.
However, we highly recommend visiting your nearest FastMed Urgent Care location if one of the following applies to you:
Your symptoms are severe

Your symptoms last longer than three weeks

You feel confused, disoriented, or drowsy

You have difficulty breathing

Your skin or lips develop a blue tinge

You are pregnant

You are age 65 or older

You are overweight and have a difficult time breathing

You have a weakened immune system

You have a long-term health condition
If you experience symptoms similar to or related to these, FastMed Urgent Care is open 24 hours a day, 7 days a week — (even on holidays) to help. Our medical professionals can provide prompt medical attention when you need it to get you on your way to feeling better fast. Visit a center today!
About FastMed
FastMed Urgent Care owns and operates nearly 200 centers in North Carolina, Arizona and Texas that provide a broad range of acute/episodic and preventive healthcare services 365 days a year. FastMed also provides workers' compensation and other occupational health services at all its centers, and family and sports medicine services at select locations. FastMed has successfully treated more than six million patients and is the only independent urgent care operator in North Carolina, Arizona and Texas to be awarded The Joint Commission's Gold Seal of Approval® for quality, safety and infection control in ambulatory healthcare. For more information about locations, services, hours of operation, insurance and prices, visit www.fastmed.com.