With school just around the corner, it's time to schedule your child's chickenpox vaccine. The chickenpox vaccine (also known as the varicella vaccine) is a preventive measure taken to boost the immune system against the varicella virus that causes chickenpox.
What To Expect From the Chickenpox Vaccine
The chickenpox vaccine contains a weak strand of the virus that is less virulent and typically incapable of causing the disease. It does, however, cause the immune system to react as though it has the virus, which helps to aid in your child's immunity and protection against the stronger viral pathogen.
Chickenpox is an uncomfortable disease and is typically spread person-to-person through the air. In 2016, it's estimated that four million people will catch this disease in the United States alone. That's why it's important for parents to schedule the chickenpox vaccination for their child as soon as they are old enough.
When To Schedule the Chickenpox Immunization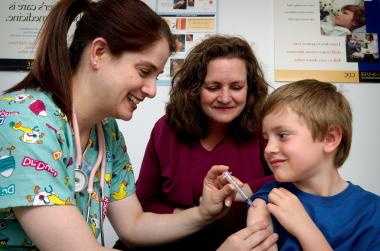 There are two separate doses of the vaccine that should be administered to your child, which together make your child 98% immune to the virus.
If your child is under the age of 13:

First dose should be administered between 12-15 months of age
Second dose should be administered between 4-6 years of age, or at least 3 months after the first dose
If your child is older than 13 (and has not received the vaccine before or contracted the varicella virus):

First dose can be administered at any time
Second dose should be administered at least 28 days later
Possible Vaccine Side Effects
One of the biggest concerns parents have when it comes to vaccines are the potential side effects that may occur. When safely administered by a medical professional, the chickenpox vaccine should lead to minimal side effect symptoms, such as:

Soreness or swelling where the shot was administered
Fever
Mild rash (up to a month after administration)
If your child experiences any other reaction, especially one more severe, contact your healthcare provider or a medical professional.
For more information about the chickenpox virus, contact your local FastMed Urgent Care. Our healthcare professionals are committed to providing compassionate care that is both quick and affordable. We also accept most major insurance plans, including Medicare and Medicaid.
———-
Sources:
WebMD: https://www.webmd.com/children/vaccines/chickenpox-varicella-vaccine
CDC: https://www.cdc.gov/chickenpox/vaccination.html
Vaccines.gov: http://www.vaccines.gov/diseases/chickenpox/
HealthChildren.org: https://www.healthychildren.org/English/safety-prevention/immunizations/Pages/Chickenpox-Vaccine-What-You-Need-to-Know.aspx