Neighborhood Clinic: Walk-in Medical Care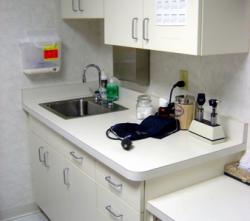 FastMed Urgent Care offers  immediate care at walk-in clinic locations across North Carolina and Arizona.  A clinic should be local, affordable and available to provide top quality healthcare for children and adults.  The medical professionals at a FastMed clinic are ready to diagnose and treat common conditions and minor injuries that most families experience, such as bronchitis, seasonal allergies, sinus infections, ear infections and nausea or vomiting. A medical clinic from FastMed is the affordable option when your condition is urgent, but not life threatening.  The symptoms of a urinary tract infection are very painful and the need for care is immediate, but seldom requires emergency room care.  Coming to a FastMed walk-in is an easy and convenient way to treat minor illness and injuries.
Clinic Services at FastMed
 Our staff is trained in adult and pediatric medical care. As a walk-in clinic, we can immediately address any sudden-onset or last-minute health care issues. No one can anticipate when an illness or injury will occur, so it's good to know that highly qualified medical professionals at FastMed Urgent Care are right in your neighborhood. You don't need to wait for an appointment, walk-ins are welcome. Our modern, state-of-the-art Urgent Care clinics have extended hours and are open every day of the year. With on-site labs, digital x-rays, and EKG equipment, our goal is to get patients in and out within an hour. 
Urgent Care Clinic Services:
Mild to moderate illness
Injuries and orthopedics
Physicals for children and adults
Vaccinations and flu shots for children and adults*
Acute and chronic illness management, including diabetes, high cholesterol, hypertension, and endocrine issues
Gynecological exams and sexual health care
A medical doctor at your FastMed Urgent Care clinic can serve as your primary care physician – we can be the starting point for your health issues.  If it's determined you need a specialist or additional testing, we are happy to manage that referral, schedule your appointment and send your digital health records.  FastMed Urgent Care is a clinic that works to provide fast, convenient patient care from a team of top-knotch medical professionals.
Other articles:
Itchy Skin | Sinus Headache | Tuberculosis |  Poison Ivy  |  Poison Oak