Cold sores or fever blisters are groups of small blisters that appear on the lips or around the mouth. Cold sores are typically painful, red, and swollen, and can sometimes break open and leak a clear fluid. They are also highly contagious. Cold sores can easily be spread by close personal contact, like sharing a drink, kissing, or oral sex.
So, what causes cold sores?
Cold sores are caused by a type of herpes virus, herpes simplex virus (HSV). There are two types of herpes simplex virus, HSV-1 and HSV-2, and both can cause sores that appear on the mouth or genital area.
Common Cold Sore Symptoms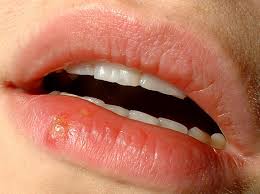 It is possible to be infected with the herpes simplex virus and never show any symptoms. In fact, most people who have it never develop symptoms at all; however, the virus can still be contagious even without the presence of blisters.
Those who do experience the symptoms often experience them in stages.
First, you may feel a tingling, itching, or burning sensation around your lips a few days before you notice a blister.
Second, small fluid-filled blisters may break out along your lips.
Third, the blisters may begin to ooze and crust over.
It typically takes about 2 weeks for a cold sore to heal completely, but they usually go away on their own. There is no cure for cold sores, but there are things you can do to lessen your symptoms during an outbreak. There are over-the-counter topical medications and prescription medications than can speed the healing process. If you frequently get cold sores, it may be worth talking to a medical professional about your options for treatment.
For immediate medical attention or to speak with a physician about your options for treatment, visit your local FastMed Urgent Care clinic. We provide personal and cost-effective medical care, and our goal is to get you in and out within an hour.
About FastMed
FastMed Urgent Care owns and operates nearly 200 centers in North Carolina, Arizona and Texas that provide a broad range of acute/episodic and preventive healthcare services 365 days a year. FastMed also provides workers' compensation and other occupational health services at all its centers, and family and sports medicine services at select locations. FastMed has successfully treated more than six million patients and is the only independent urgent care operator in North Carolina, Arizona and Texas to be awarded The Joint Commission's Gold Seal of Approval® for quality, safety and infection control in ambulatory healthcare. For more information about locations, services, hours of operation, insurance and prices, visit www.fastmed.com.