As we age, dark spots are more likely to appear on our skin. In fact, they're so common that we know them as "age spots" or "liver spots." Age spots are typically tan, brown, or black, and vary in size. Dark spots on the skin caused by age can sometimes look like cancerous growths, but true age spots are harmless and typically do not require treatment.
However, if you notice a sudden appearance of age spots, you should have them looked at by a medical professional to rule out the presence of cancer or other dangerous skin conditions. If you are concerned about the look of the dark spots on your skin, stop by a FastMed clinic near you.
Should Dark Spots on My Skin Concern Me?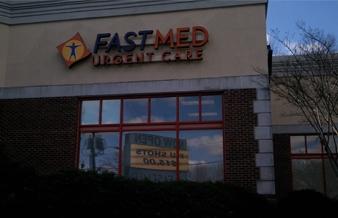 Age spots are usually caused by years of exposure to the sun or the use of commercial tanning beds. UV light from the sun or a tanning bed accelerates the production of melanin in your skin. Frequent and prolonged exposure to UV light can cause the melanin to become clumped, causing dark spots.
Although dark spots are usually harmless, you should see a physician just to be certain. If your dark spots have changed in appearance, it could be a sign of melanoma or other types of skin cancer. You should come to FastMed if the dark spots on your skin are:
Darkly pigmented
Rapidly increasing in size
An irregular border
An unusual combination of colors
Accompanied by itching, redness, tenderness, or bleeding
All of our urgent care clinics are open 365 days a year, and you don't need an appointment to be seen. If a FastMed medical professional determines that the dark spots on your skin should be seen by a specialist, we will set up the appointment for you. At FastMed, our number one priority is you.
About FastMed
FastMed Urgent Care owns and operates nearly 200 centers in North Carolina, Arizona and Texas that provide a broad range of acute/episodic and preventive healthcare services 365 days a year. FastMed also provides workers' compensation and other occupational health services at all its centers, and family and sports medicine services at select locations. FastMed has successfully treated more than six million patients and is the only independent urgent care operator in North Carolina, Arizona and Texas to be awarded The Joint Commission's Gold Seal of Approval® for quality, safety and infection control in ambulatory healthcare. For more information about locations, services, hours of operation, insurance and prices, visit www.fastmed.com.