The difference between urgent care clinics and the emergency room (ER) is the level of care and treatment that each facility are capable of providing. When you suffer life-threatening injuries or very severe illness, the emergency room is the best option for immediate care.
If your symptoms need to be treated quickly but are not life-threatening (e.g., a broken or sprained bone, flu or cold symptoms, minor cuts or burns), an urgent care clinic is typically the treatment option that will be the most efficient and least expensive.
Urgent Care vs. the ER
Most urgent care clinics offer extended hours and are open seven days a week. Urgent care medical professionals are equipped to respond quickly to a variety of non-life threatening illnesses and injuries, such as:
Fever
Ear pain
Painful urination
Persistent diarrhea
Sore throat
Vomiting
Mild asthma
Minor burns
Rashes and other skin irritations
Animal bites
Dehydration
Lacerations
Infections
Simple fractures and sprains
Nose bleeds
Emergency rooms are the best option in cases where conditions are life-threatening and may require advanced treatment, such as immediate surgery. These medical facilities are open 24 hours a day, 7 days a week, and offer quick access to a range of specialists. This high level of care typically increases the cost of an emergency room visit.
A few medical problems that may require emergency room attention include:
Confusion
Head injury
Coughing blood
Severe chest pain
Shortness of breath
Abdominal pain
Sudden vision changes
Spinal injuries
Uncontrollable bleeding
Severe vomiting and/or diarrhea
Seizures
Drug overdoses
Severe burns
Payment and Wait Time in Urgent Care vs. Emergency Rooms
Emergency rooms operate by treating patients with the most serious and demanding conditions first, leaving those with less severe problems to wait. 12.5% of emergency room patients are typically served within one hour or less, while urgent care clinics usually treat 88.6% of their patients within an hour.
There are also several financial downsides to emergency room visits. Urgent care centers are typically around seven times cheaper (averaging a cost of $200) than a visit to the emergency room (averaging a cost of $1,400). At an ER, you may also have multiple charges, higher co-pays, and you may be left to pay the medical bills yourself if your insurance company determines that the event that brought you to the emergency room was a non-medical emergency.
The Benefits of Visiting FastMed Urgent Care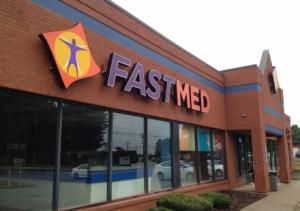 FastMed Urgent Care proudly offers wait times and financial accessibility that meet the needs of a multitude of patients. Our clinics include on-site X-ray technology and labs for diagnosing a wide range of medical conditions.
At FastMed Urgent Care, we offer our patients personal, top-notch, and convenient care. We are fully staffed by highly knowledgeable and fully trained healthcare professionals, and we offer an affordable option to visiting the emergency room.
Contact us today, or stop by one of our locations to experience our quality care for yourself. See why patients like Linda S. have high praise for FastMed Urgent Care: "I rushed in your doors at closing time with my daughter. She had quite a gash that needed medical treatment with multiple stitches. You did an excellent job and her wound and stitches have healed beautifully!"
———-
Sources:
Blue Cross Blue Shield: http://www.bcbsm.com/index/health-insurance-help/faqs/topics/getting-care/emergency-room-vs-urgent-care
DocuTAP: http://docutap.com/blog/whats-the-difference-between-an-urgent-care-and-an-emergency-room
Scripps: https://www.scripps.org/news_items/should-you-go-to-the-emergency-room-or-urgent-care
About FastMed
FastMed Urgent Care owns and operates nearly 200 centers in North Carolina, Arizona and Texas that provide a broad range of acute/episodic and preventive healthcare services 365 days a year. FastMed also provides workers' compensation and other occupational health services at all its centers, and family and sports medicine services at select locations. FastMed has successfully treated more than six million patients and is the only independent urgent care operator in North Carolina, Arizona and Texas to be awarded The Joint Commission's Gold Seal of Approval® for quality, safety and infection control in ambulatory healthcare. For more information about locations, services, hours of operation, insurance and prices, visit www.fastmed.com.