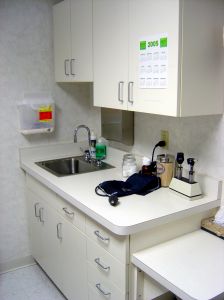 Most of the time when you cut yourself, your skin is able to heal itself on its own. However, serious cuts can require extra care like stitches to ensure they heal without infection. Next time you find yourself dealing with an injury and wondering, "Do I need to go to the ER for Stitches?" FastMed Urgent Care can help. FastMed has walk-in clinics all over North Carolina and Arizona and accepts Blue Cross and Blue Shield of North Carolina (BCBSNC) and most other major insurance plans.
Do I Need to go to the ER for Stitches? And, Other Questions you Might be Asking
How do I know I need stitches?
While getting stitches is a routine and often painless procedure, it can be hard to determine if a cut needs stitches. You may want to seek medical attention for any cut that:
Bleeds longer that 20 minutes, even under direct pressure

Feels numb

Is extremely deep or gaping

Is jagged and seems like it will scar
What does getting stitches entail?
First, a healthcare provider will assess your injury and determine whether or not stitches are needed. If they decide you do need stitches, they will most likely numb the area and sew the wound together with surgical thread.
Do I need to go to the ER for stitches?
Not with FastMed in your neighborhood! FastMed offers stitches and other services 7 days a week with no appointment and accepts most major insurance plans including BCBSNC.
What else can I expect from FastMed?
All of our walk-in clinics are state-of-the-art

We are open 365 days a year with extended hours during the week

We offer online bill pay

Our ZipPass saves you time

Don't have BCBSNC?

Click here to see if your insurance plan is accepted.

Don't have insurance? We have discount programs!

FastMed offers other services such as vaccines, physicals, flu shots and more
In the past, going to the ER for stitches and other unscheduled health issues was your only option. Now, with FastMed, getting the care you need is quick, painless, and affordable. Click here to find a FastMed in your neighborhood!
About FastMed
FastMed Urgent Care owns and operates nearly 200 centers in North Carolina, Arizona and Texas that provide a broad range of acute/episodic and preventive healthcare services 365 days a year. FastMed also provides workers' compensation and other occupational health services at all its centers, and family and sports medicine services at select locations. FastMed has successfully treated more than six million patients and is the only independent urgent care operator in North Carolina, Arizona and Texas to be awarded The Joint Commission's Gold Seal of Approval® for quality, safety and infection control in ambulatory healthcare. For more information about locations, services, hours of operation, insurance and prices, visit www.fastmed.com.