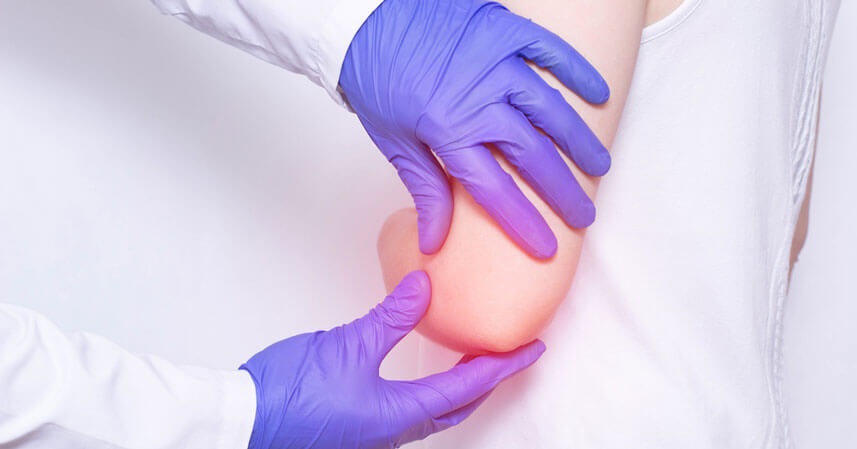 Summer is here! Many of us are heading out to enjoy vacations, sports, and outdoor activities – but the more active we are, the more prone we are to injuries. Learn what a dislocation is, which dislocation symptoms to watch for and when you should seek dislocation treatment.
A season for fun (and injuries)
There are so many options for summertime fun. Beach trips, summer sports, family hikes, bike and scooter rides, playtime at the park – the possibilities are practically endless! But in the midst of all this fun, summer can be a particularly dangerous time of year.
The U.S. Consumer Product Safety Commission reports that nearly 2 million Americans are injured every summer due to popular summer activities. Children are especially vulnerable as they spend more time outside, often with less supervision. Even workers are more likely to sustain injuries during the summer months. According to the Bureau of Labor Statistics, most work injuries occur in June, July, and August.
At FastMed, your health and safety always come first. Let's dive right into everything you need to know about dislocations, so you're prepared if or when you experience one.
When dislocation of a joint occurs
The place where two or more bones in the body come together is called a joint. A dislocation occurs when the bones in a joint become separated or knocked out of their usual positions. This is typically caused by some sort of trauma, such as a fall or hard hit. Dislocations are also common in contact sports – for example, basketball players frequently dislocate joints in their fingers or hands by accidentally striking the ball.
The dislocation of a joint can occur in any part of your body, but happens most often in the following joints:
Shoulder
Finger
Kneecap
Elbow
Hip
Jaw
Collarbone
Toes
Types of dislocation
There are two types of dislocation – full and partial. The partial dislocation of a joint is called a subluxation. Both types of dislocation may require medical treatment, and both share many symptoms as well.
Dislocation symptoms
Dislocations are incredibly common but can also be incredibly painful. The symptoms of dislocation will vary depending on the severity and location of the injury. Some of the most common dislocation symptoms include:
Pain
Swelling
Bruising
Discoloration
Weakness
Joint is unable to move
Joint is visibly deformed or out of place
Why you need a dislocation diagnosis
In some cases, it can be difficult to tell a broken bone from a dislocated joint. For either type of injury, it's important to get medical help right away. If possible, ice the joint and keep it immobile until you can see a medical professional.
Getting a dislocation diagnosis quickly can also help you prevent complications, such as:
Nerve or blood vessel damage in or around the injured joint
Stretching or tearing of the muscles, ligaments and tendons that reinforce the injured joint
The potential for reinjury if you have a severe dislocation or repeated dislocations of the same joint
The development of arthritis in the injured joint as you age
Dislocation treatment options
The good news is that most dislocations do not have serious complications and can be successfully treated. Again, your dislocation treatment options will vary based on the severity and location of the injury.
Medication – Your doctor may recommend medication to help reduce your pain.
Manipulation – Sometimes referred to as "popping it in," this is when your doctor manually attempts to return the bone to its proper place.
Immobilization – Using a sling or splint can help your joint stay immobile as it heals.
Rehabilitation – Physical therapy exercises to strengthen the muscles around the joint and restore normal range of motion.
Your doctor may recommend surgery if manipulation does not successfully put the bone back in place or if the dislocation damaged nerves, blood vessels, muscles, ligaments, or tendons that need to be repaired.
The right location for your dislocation
If you suspect that you may have a dislocation, your local FastMed clinic is ready to help! From dislocations to X-rays to any other urgent care needs, we are here to ensure that you have the safest summer possible.
About FastMed
FastMed is one of the nation's largest urgent care providers, proudly serving communities across North Carolina. FastMed provides a broad range of acute/episodic, preventive, and occupational healthcare – in its clinics and via telemedicine – as well as family medicine at select locations. FastMed is one of the few urgent care providers in the nation that has earned The Joint Commission's coveted Gold Seal of Approval® for quality, safety and infection control in ambulatory healthcare. For more information, visit www.fastmed.com.