Night sweats can drench your sheets and bedding. Excessive sweating at night can have any number of underlying causes that range from menopause to lymphoma. Even certain medications can cause excessive sweating at night. Read more about the possible causes of your drenching night sweat symptoms.
Common Causes of Sweating at Night
Though drenching night sweats are one of the symptoms that may indicate lymphoma, there are other conditions that can also cause intense sweating at night.
Menopause
Typically, women enter menopause between 45 – 55 years old. Menopause is the body's natural process of shutting down the hormones a woman needs for fertility. This hormonal shift affects women physically and emotionally, with symptoms that may include:

Mood swings
Headaches
Hot flashes
Vaginal dryness
Excessive sweating
Disinterest in sex
During menopause, the menstrual cycle ends. Once a woman hasn't had a period for a year, she is typically considered postmenopausal. Symptoms of menopause, including drenching night sweats, vary in intensity and duration for every woman.
Antidepressants and Other Medications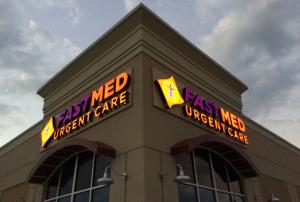 Some medications, including antidepressants, aspirin and acetaminophen can cause excessive sweating. Up to 22% of people taking antidepressants report suffering symptoms of drenching night sweats.
Severe Infection
Night sweats can also be associated with the bacterial infection that causes tuberculosis (TB). Though the rate of TB infection has decreased, the disease is highly infectious and spreads easily. Additional symptoms of TB include unexplained weight loss, a hacking cough, fever and fatigue.
Getting Relief for Night Sweats at FastMed Urgent Care
If night sweats regularly disrupt your sleep or are accompanied by fever and/or weight loss, you should seek medical attention. FastMed Urgent Care brings healthcare to your community, with convenient locations that accept most major insurance plans, including Medicaid and Medicare.
We understand that the first step in quality care is determining the root cause of the problem. In our in-house labs, our medical professionals can test your blood for possible causes of your drenching night sweats.
Don't just take our word for it. Check out what Gayle C. had to say about her great experience at FastMed Urgent Care: "The urgent care center was terrific! The staff delivered exactly what I needed: professional care and personal attention – and they delivered it with care and kindness. FastMed Urgent Care is on my radar as an integral part of my community and I have given several enthusiastic recommendations to friends and work associates. Thank you!"
———-
Sources:
Cancer.net: http://www.cancer.net/cancer-types/lymphoma-hodgkin/symptoms-and-signs
Mayo Clinic: https://www.mayoclinic.org/diseases-conditions/menopause/basics
WebMD: https://www.webmd.com/menopause/guide/8-causes-of-night-sweats