Drop-In Medical Clinic FAQ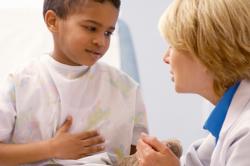 A local drop-in medical clinic, like FastMed Urgent Care, is a place where anyone can receive urgent care for conditions that don't require immediate hospitalization. Every FastMed drop-in medical clinic is open 7 days per week and maintains extended hours, so you can receive care before or after work.  Just type in your zip code to find a location closest to you in Arizona or North Carolina.
Will a FastMed drop-in medical clinic take my insurance?
FastMed Urgent Care takes most major insurance plans. Check here for plans in your state.
What services does FastMed offer?
A FastMed drop-in medical clinic treats common non-life-threatening conditions, like strep throat, ear infections and sinus infections.  We also do physicals, pre-employment drug testing, as well as and treat cuts, sprains and breaks. A few of the services we offer are flu shots and vaccines, occupational health services, and sports medicine.
Do I need an appointment?
No. Every FastMed is a drop-in medical clinic, so no appointment is needed. But you can use our ZipPass to check in online.
Why shouldn't I just go to the emergency room?
FastMed drop-in medical clinic is a quick, cost-effective alternative to an emergency room if your condition isn't life-threatening. Your wait is shorter, your bill is lower, and you free up ER staff to handle traumatic health events.
Is a drop-in medical clinic for kids and adults?
Yes. Our staff is trained in both pediatric and adult care, so if you or your child has a sudden or last minute illness or injury, we will treat him or her with exceptional care.  We can suture cuts or lacerations, take x-rays. and. if needed. cast a broken bone.
Why visit a drop-in medical clinic?
At FastMed, a drop-in medical clinic means quality healthcare right in your own neighborhood.  We are open when you need us – holidays and weekends, too – and operate with extended hours. For people without health insurance, we have a membership discount program to help manage the costs of your healthcare. 
More Articles: Urgent Care Near Me | Walk In Health Clinic | Sinusitis  | Flu Shots and Vaccinations |  Sugar Test for Diabetes | How to Protect Yourself from Norovirus