Is Drug Testing for Employment Legal?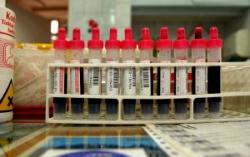 Drug testing for employment, (pre-employment drug screening) is legal in North Carolina and Arizona, as well as other states.  FastMed Urgent Care does in-house drug testing for employment at locations across AZ and NC. We also conduct drug testing for accident investigations and do employee drug screening if there is reasonable concern regarding drug use in the workplace.
Job applicants may be subject to employment drug testing once the employer has offered the prospective hire a job.  If you fail the drug test, it could result in the job offer being withdrawn.
How is Drug Testing For Employment Done?
Depending the employer's drug testing policy, random employee drug tests can be performed at will.  Other organizations will limit employee drug screening to "at cause" testing, when it appears an employee has a substance abuse problem.
There are multiple methods for conducting an employee drug test:
Blood Test:  Employee drug tests or a pre-employment drug screening can be done by drawing and testing blood for drug and alcohol content.
Urine Test: This is the most common type of drug testing for employment.  Urine tests for employee drug screening look for amphetamines, cocaine, marijuana, methamphetamines, opiates and alcohol.
Breath Alcohol Test: This is the same test – Breathalyzer- performed by the police if you're pulled over for driving under the influence. The employee blows into the device and a blood alcohol concentration (BAC) is measured. The legal BAC for driving is .08, the Department of Transportation (DOT) uses.a 04 BAC to take a driver off the road. Breathalyzer tests measure current alcohol concentration, not past use.
Hair Employment Drug Test:  Evidence of drug use remains in the hair much longer than in the blood. Hair can be tested for cocaine, marijuana, opiates, methamphetamine, and phencyclidine. If the employee has a drug history, it will be chronicled in the length of his or her hair, usually the last 90 days.
About FastMed
FastMed Urgent Care owns and operates nearly 200 centers in North Carolina, Arizona and Texas that provide a broad range of acute/episodic and preventive healthcare services 365 days a year. FastMed also provides workers' compensation and other occupational health services at all its centers, and family and sports medicine services at select locations. FastMed has successfully treated more than six million patients and is the only independent urgent care operator in North Carolina, Arizona and Texas to be awarded The Joint Commission's Gold Seal of Approval® for quality, safety and infection control in ambulatory healthcare. For more information about locations, services, hours of operation, insurance and prices, visit www.fastmed.com.