When an emergency happens, you need care fast, but did you know you don't always have to go to the ER to be treated? Non-life-threatening illnesses and injuries can be treated at an urgent care like FastMed in Hickory, NC. FastMed provides a quicker and more convenient option than the ER, without sacrificing quality. Our fast, low-cost emergency care is right at your doorstep.
I Need Emergency Care, Should I Visit FastMed or the ER?
When an injury or illness occurs, you should quickly decide how serious it is and seek medical attention. You have the option to call your doctor, visit the ER, or visit an urgent care, but sometimes it is difficult to know which option is best.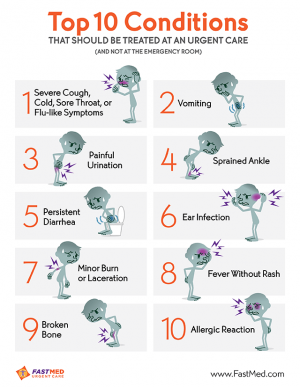 If you are experiencing any of these symptoms or illnesses, you can receive urgent care at FastMed in Hickory, NC:
Sever cough, cold, sore throat, or flu-like symptoms
Vomiting
Painful urination
Sprained ankle
Persistent diarrhea
Ear infection
Minor burn or laceration
Fever without rash
Broken bone
Allergic reaction
Call 911 to have the emergency team come to you right away for emergencies such as:
Choking
Difficulty breathing
Head injury with passing out, fainting, or confusion
Injury to neck or spine, especially if there is loss of feeling or inability to move
Electric shock or lightning strike
Severe burn
For more information on when to visit the emergency room and not urgent care visit MedlinePlus.com.
FastMed Urgent Care provides emergency care on a walk-in basis, with no appointments needed. We accept most major insurance carriers, all major credit cards, and personal checks for in-clinic payment. Our Hickory, NC, location is open from 8am-8pm on the weekdays, and 8am-4pm on the weekends.
About FastMed
FastMed Urgent Care owns and operates nearly 200 centers in North Carolina, Arizona and Texas that provide a broad range of acute/episodic and preventive healthcare services 365 days a year. FastMed also provides workers' compensation and other occupational health services at all its centers, and family and sports medicine services at select locations. FastMed has successfully treated more than six million patients and is the only independent urgent care operator in North Carolina, Arizona and Texas to be awarded The Joint Commission's Gold Seal of Approval® for quality, safety and infection control in ambulatory healthcare. For more information about locations, services, hours of operation, insurance and prices, visit www.fastmed.com.