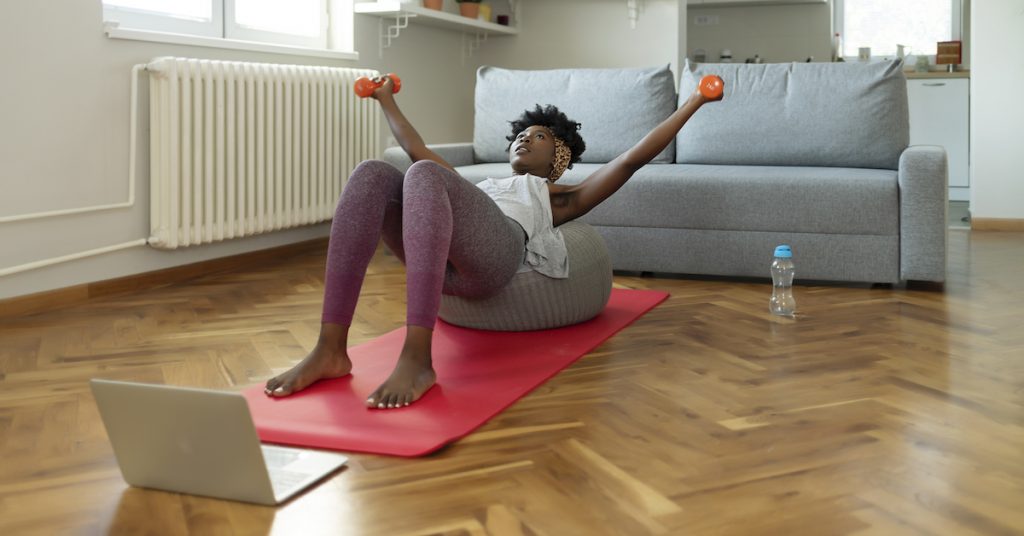 Has COVID-19 taken a toll on your exercise routine? Since February is American Heart Month— and working out can help keep your heart healthy—FastMed wants you to know which three types of exercise improve heart health the most, with no gym membership required.
The Heart of the Matter
Like your biceps and abs, your heart is a muscle—one of the most important muscles, if not THE most important muscle, in your body. And like other muscles, your heart needs regular exercise to stay strong and healthy. There's no question that healthy heart exercises can be a game-changer for our cardio health. In fact, research has shown that exercise can be just as powerful as medication for certain heart conditions. People who don't exercise are almost twice as likely to get heart disease as those who do.
The good news is that even if you don't have a regular exercise routine—or you had one, but it fell by the wayside during the COVID-19 pandemic—it's never too late to start incorporating healthy heart exercises into your life. Even walking for just 30 minutes a day can make a big difference, although there are many other heart-strengthening exercises you can choose from.
How Exercise Can Improve Heart Health
Still need some motivation to get moving? FastMed is here to explain exactly how working out can help keep your heart healthy. Consider these facts:
Exercise lowers blood pressure. High blood pressure is a major risk factor for heart disease.
Exercise is a key factor in losing weight (and keeping it off). Being overweight or obese puts stress on your heart and can lead to heart disease or stroke.
Exercise strengthens your muscles. As muscles improve their ability to draw oxygen from circulating blood, your heart doesn't have to work as hard to pump blood to them.
Exercise lowers stress. Even minor stress can trigger heart problems like poor blood flow. Long-term stress can also affect how your blood clots, increasing your risk of stroke.
Exercise can help you quit smoking. People who are physically fit are less likely to smoke—or as they become fit, they often quit. Smoking damages the structure and function of blood vessels, making it a top risk factor for heart disease.
Aerobic Exercise Gets an A+
While there are many types of exercise that can improve heart health, the best exercise for heart health is aerobic exercise—also known as "cardio" exercise, for good reason. Aerobic exercise is the most beneficial type of exercise for your cardiovascular system (your heart and blood vessels) because it increases efficiency of your cardiac output—how well your heart pumps—and improves your circulation, helping oxygen flow throughout your body. By strengthening your heart and blood vessels, regular aerobic workouts can have a major impact on your cardio health.
While many gyms and fitness centers offer a variety of aerobic classes and equipment, all you need to start these healthy heart exercises is room to move. Neighborhoods, city streets, parks, and even your living room can provide the perfect place for aerobic exercise. YouTube and many other websites offer a plethora of aerobic home workout videos.
Examples of aerobic exercise: Brisk walking, jogging, running, swimming, playing tennis, dancing, or Zumba
Ideal amount: At least 30 minutes a day, five days a week
Too Good to Resist(ance)
Looking for the best exercise for heart health? One of the top exercises is resistance training, also known as strength training. People who carry a lot of body fat, especially in their bellies, are at increased risk for heart disease. Resistance training helps reduce this risk by lowering body fat and increasing lean muscle mass. Research has found that a combination of aerobic exercise and resistance training can also help raise HDL (good) cholesterol and lower LDL (bad) cholesterol.
All you need is a set of free weights, such as hand weights or dumbbells. Don't have these at home? You can use gallons of milk or water, bags of rice, bottles of laundry detergent­—anything with extra weight will help you build muscle.
Examples of resistance training: Free weights (of any kind), resistance bands, self-powered exercises such as planking, push-ups, chin-ups, or squats.
Ideal amount: At least two non-consecutive days each week
Stretch It Out
Stretching is yet another choice for some of the best exercises for your heart health. Certain stretching exercises, such as yoga, can help lower your blood pressure, strengthening your blood vessels, and promoting cardio health. Regular stretching also allows you to stay flexible and free from joint pain and other muscular issues, so you can fully participate in other heart-strengthening exercises.
You don't need any equipment for stretching—just yourself. And like aerobic exercise, there are countless videos and other resources available online.
Examples of stretching: Yoga, tai chi, shoulder stretch, or hamstring stretch
Ideal amount: Every day and before and after any other exercise
Your Heart Will Thank You
While you should always consult your healthcare provider before starting any sort of exercise routine, we hope you will take advantage of this opportunity to help keep your heart healthy for years to come. If you are starting from scratch, set a goal and work your way up to it. For example, if you want to run, start by walking and then add bursts of jogging as you build your stamina. Gradually, you should be able to run for longer than you can walk. And before you know it, your daily walks just might turn into daily runs!
For more guidance on how to keep your heart healthy, please visit one of our Family Medicine clinics in North Carolina. Our providers are available to help you and your family live healthier lifestyles. To find a Family Medicine location near you, please click here.
About FastMed
FastMed Urgent Care owns and operates nearly 200 centers in North Carolina, Arizona and Texas that provide a broad range of acute/episodic and preventive healthcare services 365 days a year. FastMed also provides workers' compensation and other occupational health services at all its centers, and family and sports medicine services at select locations. FastMed has successfully treated more than six million patients and is the only independent urgent care operator in North Carolina, Arizona and Texas to be awarded The Joint Commission's Gold Seal of Approval® for quality, safety and infection control in ambulatory healthcare. For more information about locations, services, hours of operation, insurance and prices, visit www.fastmed.com.