FastMed Express Urgent Care
Urgent care is also called immediate care for obvious reasons. FastMed Urgent Care locations are in the community, open every day, all year long, no appointment necessary. Our medical clinics operate on extended hours, making it easier to see a doctor or medical professional. FastMed Urgent Care is committed to fast, reliable express urgent care, even without managing appointment schedules. It our goal to get you in and out within an hour, depending on the circumstances of your visit. That's how we do express urgent care at FastMed.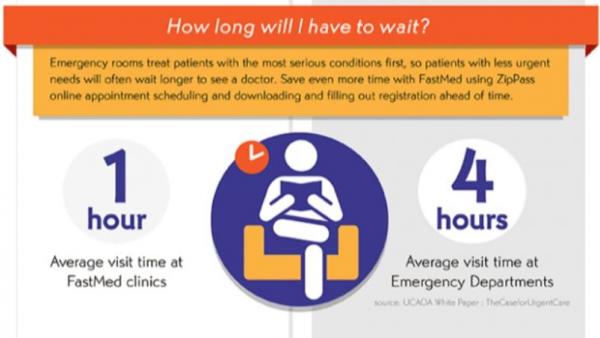 Express Urgent Care: Where to Go
Sometimes you have to make a quick decision about where to go for urgent healthcare – FastMed or an emergency room (ER). If you think you have a life-threatening injury or conditions, dial 9-1-1 and go to the ER immediately. You can use this tool to see which symptoms indicate a hospital visit, but remember it is not a diagnostic tool nor is it an alternative to or to diagnosis or advice from a medical professional. When in doubt, be safe and head for the hospital.
If you decide on express urgent care at FastMed there is an added value – affordability. FastMed Urgent Care accepts most major insurance plans, including Tricare for military families and has a discount program to help manage the cost of healthcare. We've also made investments at FastMed that improve our quality of care AND keep our operating expenses low:
All your health records are digitized. No more filling out paper forms – for you or the medical staff. Digital health records are more efficient, moved around easier, easier to read than handwritten files and reduce the amount of paper use (which is good for the environment!)
We do laboratory testing right on site. We don't pay to ship it off to another location and you don't have to come back a second time to get the results.
We take and read digital X-rays at each express urgent care location. Easy to store, easy to share with a referral – no extra trip for you just to get an X-ray.
FastMed is committed to delivering express urgent care, focusing on quality of care as our highest priority.
Other related questions:
Bronchitis Treatment | Can You Talk When You Have Strep Throat | Holly Springs Medical Center | Poison Ivy Contagious | Family Doctors
About FastMed
FastMed Urgent Care owns and operates nearly 200 centers in North Carolina, Arizona and Texas that provide a broad range of acute/episodic and preventive healthcare services 365 days a year. FastMed also provides workers' compensation and other occupational health services at all its centers, and family and sports medicine services at select locations. FastMed has successfully treated more than six million patients and is the only independent urgent care operator in North Carolina, Arizona and Texas to be awarded The Joint Commission's Gold Seal of Approval® for quality, safety and infection control in ambulatory healthcare. For more information about locations, services, hours of operation, insurance and prices, visit www.fastmed.com.