5 Eye Stye Symptoms
A stye is usually caused by a bacterial infection that affects your eye. This bacteria lives on your skin. The best way to prevent a stye is to practice good hygiene, especially keeping the areas around your eyelids and eyelashes clean and free of debris.
You may experience either an internal or an external stye. Most people will experience one or more at some point in their lives. While harmless, a stye can still be quite painful. In some circumstances, it may become necessary to get assistance from a medical professional. But no matter what, it can be helpful to get advice about caring for a stye and preventing another one from forming.
External vs. Internal Stye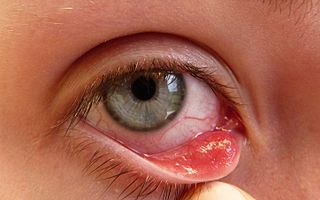 You may experience either an external or an internal stye. There are a few important differences between these two types. An external stye is characterized by swelling that causes a small bump near your eyelashes. This pus-filled bump is very sensitive and painful and will likely burst and heal on its own within a few days.
An internal stye, however, is generally located under your eyelid. Instead of a distinctive bump, you'll see redness and swelling. Like an external stye, an internal stye is likely to be quite painful.
See a medical professional if you experience any of the following symptoms:
Severe pain from a stye
Pain in your affected eye
A stye that lasts longer than a week or two
Any vision problems
Frequent recurrences
An internal stye may also leave behind a pocket of fluid. If this fluid does not drain on its own, a medical professional may need to drain it for you.
Don't suffer with the pain and uncertainty of an external or internal stye. Visit a local FastMed Urgent Care and get a proper diagnosis and recommended options to care for the stye, reduce pain and swelling, and prevent future recurrences.
To learn more about FastMed and how we treat patients at our walk-in clinics, visit our FAQs page. Use our online locator tool to find the closest FastMed Urgent Care near you.
About FastMed
FastMed Urgent Care owns and operates nearly 200 centers in North Carolina, Arizona and Texas that provide a broad range of acute/episodic and preventive healthcare services 365 days a year. FastMed also provides workers' compensation and other occupational health services at all its centers, and family and sports medicine services at select locations. FastMed has successfully treated more than six million patients and is the only independent urgent care operator in North Carolina, Arizona and Texas to be awarded The Joint Commission's Gold Seal of Approval® for quality, safety and infection control in ambulatory healthcare. For more information about locations, services, hours of operation, insurance and prices, visit www.fastmed.com.