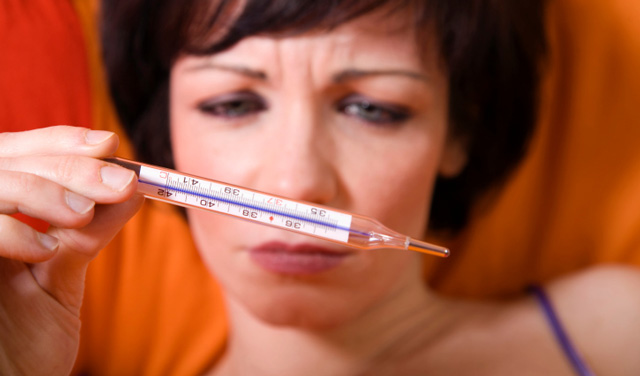 Your local FastMed Urgent Care is dedicated to helping you fight your fever – in any form that fever happens to take.
Medically-Related Fever
The average body temperature is 98.6 degrees Fahrenheit. A fever occurs when your body temperature is warmer than usual. It is usually a symptom of an underlying condition.
MedlinePlus says most fevers are caused by infections; other causes include medicines and heat exhaustion.
How to fight it: Mayo Clinic points out that your higher body temperature may help to kill off a virus, so you might not always want to fight your fever. Mayo recommends contacting a doctor if an adult has a fever that lasts for more than three days or is over 103 degrees Fahrenheit.
Mayo says that reasons to contact a doctor for child and infant fevers include listlessness, irritability, and a fever that lasts more than a day (if they're under two) or more than three days (if they're two and over). A fever of just 101 degrees Fahrenheit in a baby means a call to the doctor is necessary.
Saturday Night Fever
Symptoms include pulsing lights, tight clothes, and ridiculous dance moves.
How to fight it: Just ride it out – symptoms should clear up by the 1980s.
Christopher Walken Fever
Also known as Bruce Dickinson's Disease, this ailment is likely to strike while listening to a dynamite recording session by Blue Öyster Cult.
How to fight it: There is only one prescription. You know what it is.
Baseball Fever
Gripping America's attention from spring through fall, Baseball Fever can lead to cap-wearing and acute cracker-jack buying.
How to fight it: Don't fight it. Catch it!
Whatever Fever Peggy Lee Had
This is probably the classiest, sultriest fever in existence.
What to do: Avoid romantic infatuation with Peggy Lee. As if that were possible after listening to this song.
Got a fever? At FastMed Urgent Care, our average visit time is just an hour. We can help you deal with your medical fever so you can get back to the fevers that are far more fun.