Concerns about influenza, also known as the flu, are not at all uncommon. But how do you know if what has you feeling under the weather today is actually the flu, or something more benign? We have compiled a few of the common symptoms to make your search a little simpler, as well as a few common treatments, if you do in fact have the flu.
Cold or Flu? Symptoms and Treatment in Adults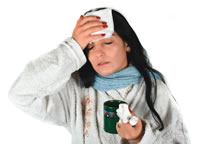 It can be tough to determine whether you just have a bit of a cold or full blown influenza. Keep your eyes out for these symptoms, and if you begin to exhibit multiple symptoms listed here, take a visit to your doctor to be on the safe side.
Joint and muscle aches

Headache

Cough

Fatigue

Sore throat

Runny Nose

Warm or flushed skin

Watery, red, or tired eyes

Difficulty breathing

Dizziness

Confusion

Vomiting
While any number of these symptoms are commonly associated with other problems, if any of them become severe, you should definitely see a medical professional as soon as possible. The good news is, the flu is relatively easy to treat.
In general, it is recommended that you pursue treatment options for your case of influenza that are relevant to your symptoms. For example, if you find yourself very congested, you should try an over-the-counter (OTC) decongestant. Or, if you find yourself with a headache or a low grade fever, you should try ibuprofen or acetaminophen.
If over-the-counter treatments do not ease the symptoms you are experiencing you should seek out medical treatment. Luckily, FastMed Urgent Care has plenty of locations available for your convenience. We provide timely treatment with a smile when you need it the most, and we can assist you in diagnosing and treating the flu.
About FastMed
FastMed Urgent Care owns and operates nearly 200 centers in North Carolina, Arizona and Texas that provide a broad range of acute/episodic and preventive healthcare services 365 days a year. FastMed also provides workers' compensation and other occupational health services at all its centers, and family and sports medicine services at select locations. FastMed has successfully treated more than six million patients and is the only independent urgent care operator in North Carolina, Arizona and Texas to be awarded The Joint Commission's Gold Seal of Approval® for quality, safety and infection control in ambulatory healthcare. For more information about locations, services, hours of operation, insurance and prices, visit www.fastmed.com.