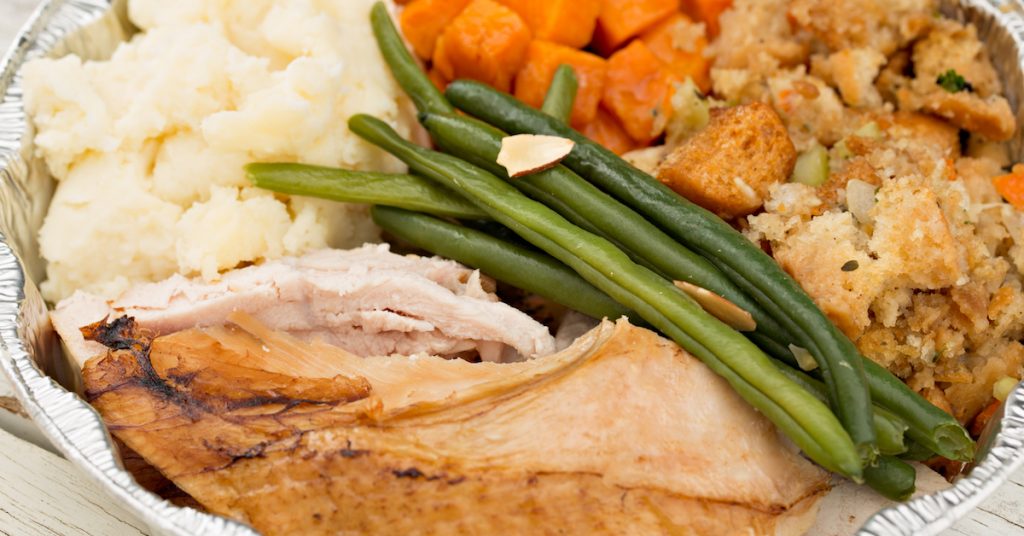 Raiding the fridge after Thanksgiving dinner is a time-honored pastime—but eating leftovers can sometimes set you up for food-borne illness. One in six Americans is affected by food-related diseases each year, making it essential to practice safe habits in the kitchen. Here's how to enjoy that leftover stuffing this Thanksgiving without spending time in the bathroom.
What Is Food-Borne Illness?
Also referred to as food poisoning, food-borne illness is caused by harmful organisms, including bacteria in contaminated foods. Because bacteria often don't change the look or smell of the food, it's difficult to tell whether a food is dangerous to eat. These organisms cause infection or irritation along the intestinal track, leading to uncomfortable symptoms like vomiting and diarrhea.
Most food poisoning is acute, meaning that it happens suddenly and lasts for a short time. Typically, healthy people can recover from a food-borne infection on their own without medical care. However, more serious food-borne diseases can sometimes occur. According to the CDC, severe food-borne diseases cause approximately 128,000 hospitalizations and 3,000 deaths in the United States each year.
Who Can Get Food-Borne Diseases?
Anyone can become affected by a food-borne infection. However, infants, children, pregnant women, and the elderly are more likely to succumb to food poisoning. People with compromised immune systems should also take extra precautions to avoid food-related diseases. These vulnerable groups are at higher risk of developing complications or severe symptoms from food poisoning like dehydration and electrolyte imbalance.
What Are the Symptoms of a Food-Borne Infection?
The symptoms of food-borne illness vary depending on the source of contamination. However, most types of food poisoning cause one or more of the following symptoms:
Nausea
Vomiting
Diarrhea, which may be watery or bloody
Abdominal pain
Bloating
Cramps
Fever
These symptoms may occur within hours after eating the infected food, but they can take longer to manifest. Sickness caused by food poisoning usually lasts from a few hours to multiple days.
When Should I See a Doctor for Food Poisoning?
Sometimes, food-borne diseases can be serious. Contact your doctor or visit a FastMed Urgent Care clinic if you experience any of the following symptoms:
Frequent vomiting
Inability to keep liquids down
Blood in vomit or stools
Diarrhea that lasts longer than three days
Extreme stomach pain or cramping
A fever higher than 100.4º F
Symptoms of dehydration, including dry mouth, decreased urination or dark urine, severe weakness, or dizziness
Blurry vision
Muscle weakness or tingling in the arms
How Can I Prevent Food Poisoning at Thanksgiving?
Practicing safe habits in the kitchen can help you and your family enjoy an illness-free Thanksgiving. For many families, the turkey is the centerpiece of their Thanksgiving meal. Prepping and cooking a turkey safely can prevent a food-borne illness from ruining your celebration.
Cooking a Turkey Safely
Store the turkey at 40º F or below.
Thaw turkey by using the microwave, cold water, or the refrigerator. The USDA suggests using the refrigerator to thaw turkeys before cooking.
When prepping the turkey, keep the bird separated from all other foods to avoid cross-contamination.
Clean items that have touched raw meat with warm soap and water, or put them in the dishwasher.
Use a food thermometer to ensure that the bird is cooked to 165º F and the stuffing or dressing is also heated through.
Consuming Leftovers Safely
Ready to dig in to some Thanksgiving leftovers? Be sure to follow these food safety tips:
Place leftovers in the fridge within two hours to prevent bacteria growth – unless it is in a hot environment (outside in the sun), then cut the time down to an hour.
Store foods in shallow pans and containers, which can decrease cooling time.
Stuffing should be stored separately from the turkey.
Don't consume leftovers that have been in the refrigerator for longer than 3–4 days (the Tuesday after Thanksgiving).
If foods may be stored for longer than 3-4 days, put them in the freezer right away.
Use ice packs and a cooler to keep items cold if you're transporting leftovers home, especially if the trip is longer than two hours.
When reheating leftovers, remember to heat them on the stove or oven to a temperature of 165º F. Soups, gravies, and other liquids should be brought to a rolling boil or to 165 degrees for 10 minutes. Slow cookers aren't recommended because they may not get hot enough to kill potential bacteria. And remember—when in doubt, throw it out! Never take a risk when it comes to food-borne illness.
Don't let a bout of food poisoning ruin your holidays. By practicing a few safety tips, you'll be able to indulge in holiday treats without food-related diseases.
About FastMed
FastMed Urgent Care owns and operates nearly 200 centers in North Carolina, Arizona and Texas that provide a broad range of acute/episodic and preventive healthcare services 365 days a year. FastMed also provides workers' compensation and other occupational health services at all its centers, and family and sports medicine services at select locations. FastMed has successfully treated more than six million patients and is the only independent urgent care operator in North Carolina, Arizona and Texas to be awarded The Joint Commission's Gold Seal of Approval® for quality, safety and infection control in ambulatory healthcare. For more information about locations, services, hours of operation, insurance and prices, visit www.fastmed.com.