Headaches can be a pain, especially when they cause pain and pressure behind your eyes. While some headaches and pain behind the eyes can be due to a common symptom, other causes are much more serious. It's important to determine the severity and location of the headache and eye pain in order to help your medical professional achieve the right treatment plan.
Causes and Symptoms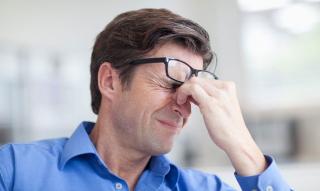 Possible causes of the headache behind your eyes:
Cluster headaches: Cluster headaches are headaches that occur in patterns or clusters, and they are one of the most painful types of headache and occur. Cluster headaches usually happen rather quickly without warning, and they share some common signs and symptoms:

Intense, one-sided pain that is throbbing or constant
Headache is behind one eye or around the ocular cavity (without changing sides)
Pain that lasts a short time (30-90 minutes)
Headaches that disappear and reappear later the same day
Headaches that occur regularly

Sinus headaches: Sometimes infections or allergies can cause our sinuses to become inflamed and put pressure on our eyes. This pressure can cause pain behind the eyes. If the pain behind your eye is accompanied by any of the following symptoms, a sinus headache could be to blame:

Stuffy nose
Sore throat
Cough
Fatigue
In order to determine if the pain behind your eye is caused by cluster headaches or a sinus infection, we recommend a visit to FastMed. It is important to determine the cause of your symptoms before you begin treatment to rule out a more serious issue. From there, your FastMed medical professional will likely recommend a course of treatment or prescribe you medication to help relieve the pressure and pain.
At FastMed, we know that sinus pressure and pain don't always occur during doctor's office hours, and it often isn't serious enough to require a trip to the emergency room. That is why we are open 7 days a week, 365 days of the year to provide you with the best medical treatment possible.
About FastMed
FastMed Urgent Care owns and operates nearly 200 centers in North Carolina, Arizona and Texas that provide a broad range of acute/episodic and preventive healthcare services 365 days a year. FastMed also provides workers' compensation and other occupational health services at all its centers, and family and sports medicine services at select locations. FastMed has successfully treated more than six million patients and is the only independent urgent care operator in North Carolina, Arizona and Texas to be awarded The Joint Commission's Gold Seal of Approval® for quality, safety and infection control in ambulatory healthcare. For more information about locations, services, hours of operation, insurance and prices, visit www.fastmed.com.