Heart disease, a range of conditions affecting your heart, kills 600,000 people in the United States every year, making it the leading cause of death in the U.S. The symptoms and treatment of heart disease vary depending on the type of heart disease you have, so understanding your specific disease is important to getting the care you need.
Common Questions Asked about Heart Disease, Prevention, and Treatment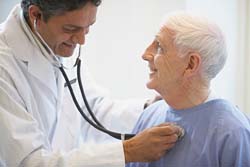 What are the different types of heart disease?
Arrhythmias: An issue with the rate or rhythm of the heartbeat
Congenital heart defects: Problems with a heart's structure, which are present at birth, that can change the normal flow of blood through the heart
Cardiomyopathy: Disease of the heart muscle that causes the heart muscles to enlarge and weaken the heart's ability to pump blood
Heart infections: Endocarditis and myocarditis are complications, such as infection and inflammation, respectively, that require immediate treatment
Heart valve problems: Causes heart valves to not close properly or to not open enough to allow blood to pass through
What are the symptoms of heart disease?
The symptoms vary depending on the type of heart disease you have. Some common warning signs are:
Chest pain
Shortness of breath
Nausea
Rapid heartbeat
Dizziness
Heart palpitations
How can I reduce my risk of heart disease?
What does heart disease treatment consist of?
Here are some common heart disease treatments:
Lifestyle Changes
Stents
Heart bypass surgery
Valve disease treatment
Cardioversion
EECP
Ablation
Pacemakers
Implantable cardioverter defibrillators (ICD)
FastMed Urgent Care strives to serve our community and patients with exceptional medical care that they can count on every day of the year. At FastMed, we believe that everyone deserves remarkable health care at affordable prices, which is why we offer discount programs and accept most insurance plans. For questions regarding heart disease treatment or other services, call or stop by today!