Herpes angina, commonly called herpangina, is a contagious illness often seen in children caused by an enterovirus. Coxsackie group A virus is the most common cause. Ulcers in the mouth and throat are the main cause of pain children may experience. Seeking medical treatment can help determine how to alleviate the pain brought on by herpes angina.
How to Identify Herpes Angina
If you peer into the throat with a flashlight and see ulcers that are white or gray in the middle with a red outer ring you are most likely seeing symptoms of herpes angina. The ulcers are usually 2 to 4 mm in size, and the child may have as many as six of them in the back of the mouth and on the soft palate (the back of the roof of the mouth).
How to Treat Herpes Angina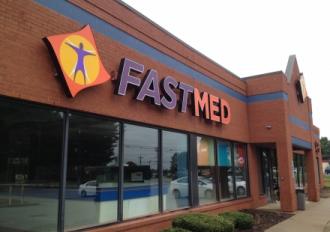 The sores can cause severe pain, so keeping the infected person comfortable and away from other children is priority. Some treatments for herpes angina include:
Taking acetaminophen (Tylenol) or ibuprofen (Motrin) by mouth for fever and discomfort.

Increasing fluid intake, especially cold milk products. Gargle with cool water or try eating popsicles. Avoid hot beverages and citrus fruits.

Eating a non-irritating diet. (Cold milk products, including ice cream, are often the best choices during herpangina infection. Fruit juices are too acidic and tend to irritate the mouth sores.) Avoid spicy, fried, or hot foods.

Using topical anesthetics for the mouth.
FastMed Can Help with Herpes Angina Pain
Although herpangina usually goes away on its own, you should seek medical help if the sores, fever, or sore throat persist for more than 5 days or are extremely severe. If kids refuse to eat or drink because they are in so much pain, seek medical attention right way. Caring medical professionals at your local FastMed can determine the right treatment for painful herpes angina symptoms. With convenient hours, FastMed is open when you need us most.
About FastMed
FastMed Urgent Care owns and operates nearly 200 centers in North Carolina, Arizona and Texas that provide a broad range of acute/episodic and preventive healthcare services 365 days a year. FastMed also provides workers' compensation and other occupational health services at all its centers, and family and sports medicine services at select locations. FastMed has successfully treated more than six million patients and is the only independent urgent care operator in North Carolina, Arizona and Texas to be awarded The Joint Commission's Gold Seal of Approval® for quality, safety and infection control in ambulatory healthcare. For more information about locations, services, hours of operation, insurance and prices, visit www.fastmed.com.