Herpes cold sores, also known as oral herpes or fever blisters, are caused by the herpes simplex virus type 1 (HSV-1). HSV-1 most often causes painful blisters around the mouth that crack open, ooze, and then scab over. Although HSV-1 is typically associated with oral herpes, it has been known to cause blisters on genitals (and other parts of the body) as well. Both oral and genital herpes are highly contagious and can be spread even if blisters are not present.
FAQ: Help with Herpes Cold Sores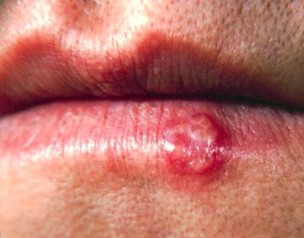 To help you understand the herpes virus, recognize when you have it, and know when to seek treatment, we'll answer some of the most common questions relating to herpes cold sores.
Q. How did I get herpes?
HSV-1 is spread by contact with body fluids from an infected person. This includes contact with the actual blister, but can also be spread indirectly through sharing razors, eating utensils, or saliva. Children are often infected by parents who kiss them during an outbreak.
Q. How do I cure it?
Unfortunately, there is no cure for herpes cold sores. Once you've been infected, the virus remains in your body, but cold sore outbreaks will usually run their course in a few days to two weeks.
Q. Should I go to the doctor?
For cold sores from HSV-1, it is common for the blisters to clear up on their own. You can purchase topical creams to reduce the pain and inflammation, but if you have frequent or severe outbreaks, you should speak with a medical professional.
FastMed Urgent Care has locations across North Carolina and Arizona that offer quick and compassionate medical treatment 365 days a year. Plug in your zip code to find an office in your neighborhood.
Q. Do I need a prescription?
Although there is no cure, herpes outbreaks can be controlled with prescription antiviral medications. Your FastMed medical professional will be able to assess your symptoms and recommended a method of treatment based on their assessment.
About FastMed
FastMed Urgent Care owns and operates nearly 200 centers in North Carolina, Arizona and Texas that provide a broad range of acute/episodic and preventive healthcare services 365 days a year. FastMed also provides workers' compensation and other occupational health services at all its centers, and family and sports medicine services at select locations. FastMed has successfully treated more than six million patients and is the only independent urgent care operator in North Carolina, Arizona and Texas to be awarded The Joint Commission's Gold Seal of Approval® for quality, safety and infection control in ambulatory healthcare. For more information about locations, services, hours of operation, insurance and prices, visit www.fastmed.com.