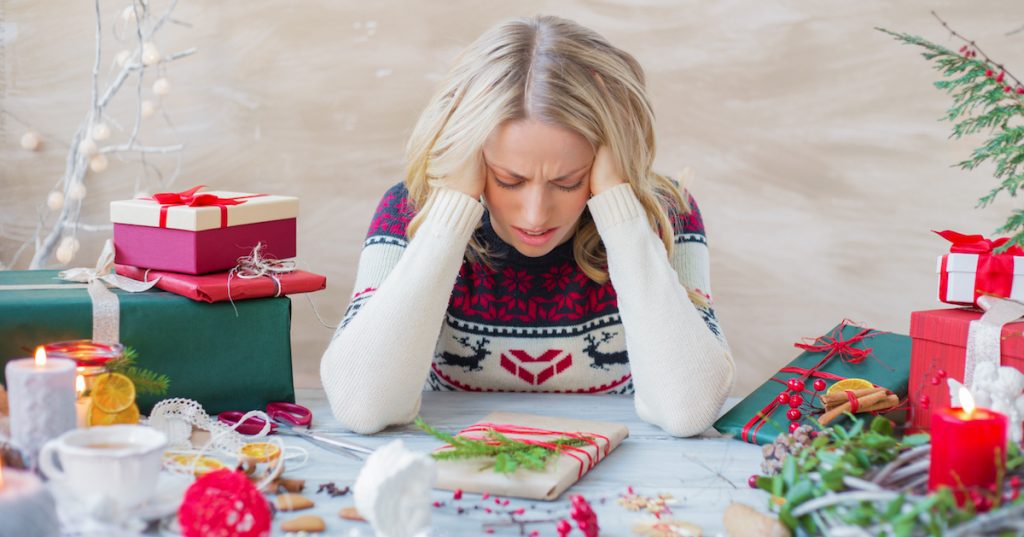 From increased demands on time and finances to Uncle Joe insisting on discussing politics at the family dinner, the holidays can be filled with stress and anxiety. The following stress reducers will help you maintain your joy this holiday season.
What Are Some Ways to Relieve Stress Caused by Holiday Shopping and Travel?
From purchasing gifts for friends and coworkers to traveling to visit distant relatives, finances are often a major source of concern during the holidays. The following financial stress reducers will help minimize the pain when the credit card bills arrive in January:
• Take an honest look at your finances, make a holiday budget, and stick to it. Instead of buying gifts for every family member or co-worker, have a "dirty Santa" gift exchange or draw names so that everyone only has to buy one gift.
• If travel isn't in the cards, find other ways to be together, such as having a family Skype session or sending video messages.
• Consider making homemade gifts.
• You should give yourself permission to say no to if you simply do not have the time or the money to take on another obligation.
What Are Some Tips for Managing Holiday Stress During Family Gatherings?
When it comes to family gatherings, holiday stress relief begins with setting realistic expectations and realizing that our gatherings are more likely to resemble the Griswolds than a Hallmark movie. The following are a few ways to relieve stress and make your time with family more enjoyable:
• Try to focus on creating memories rather than perfection. No one is going to remember that your house was a little cluttered or that dinner was a few minutes late, but they will remember the laughs during the annual family ugly Christmas sweater contest or while building snowmen.
• Agree to set aside differences. There will be plenty of time after the holidays to discuss difficult topics.
• If you are hosting the family meal, be sure to plan the menu ahead of time to avoid last-minute trips to the grocery store. You can also lighten the workload by asking family members to bring the side dishes and desserts. Even if you think that you make the best green bean casserole, Aunt Edna will no doubt be pleased that you asked for her help.
• You can always opt to hold the family gathering at a restaurant or other public place. Not only will this save you the effort of having to fix a meal, but potentially problematic family members will be more likely to be on their best behavior in public.
What Are Some Tips for Managing Holiday Stress Following a Loss?
The holidays can be bittersweet following the loss of a loved one. One of the best ways to relieve stress while grieving or going through a major life change during the holidays is to deliberately focus on others. Bringing a smile to someone else's face will automatically bring a smile to your own and improve your mood.
• You can honor your loved one by volunteering for a cause that was close to their heart.
• Set a goal of doing a random act of kindness each day between Christmas and New Year's Day. This can range from taking a bag of groceries to a local food pantry or simply leaving an encouraging note for a friend or co-worker.
• Share your feelings with someone else, such as a trusted friend or a support group of individuals going through similar circumstances.
What Are Some Fun Stress Relieving Activities?
• Maintain healthy habits as much as possible. For example, allow yourself to have an extra piece of your favorite pie but balance it out with a brisk family walk afterward.
• The act of laughing releases chemicals in the brain that can alleviate your stress and improve your mood. Make of point of engaging in fun stress-relieving activities, such as a family game night or watching a classic holiday comedy, that will get you laughing.
• Get outside when the weather allows. The sunlight will help chase away the winter blues.
FastMed Urgent Care will be open during the holidays to take care of you and your family. We have over 100 convenient locations and extended hours. Check in online and complete your e-registration to gain PriorityAccess and skip the waiting room so you can get back to your holiday celebrations sooner.
About FastMed
FastMed Urgent Care owns and operates nearly 200 centers in North Carolina, Arizona and Texas that provide a broad range of acute/episodic and preventive healthcare services 365 days a year. FastMed also provides workers' compensation and other occupational health services at all its centers, and family and sports medicine services at select locations. FastMed has successfully treated more than six million patients and is the only independent urgent care operator in North Carolina, Arizona and Texas to be awarded The Joint Commission's Gold Seal of Approval® for quality, safety and infection control in ambulatory healthcare. For more information about locations, services, hours of operation, insurance and prices, visit www.fastmed.com.