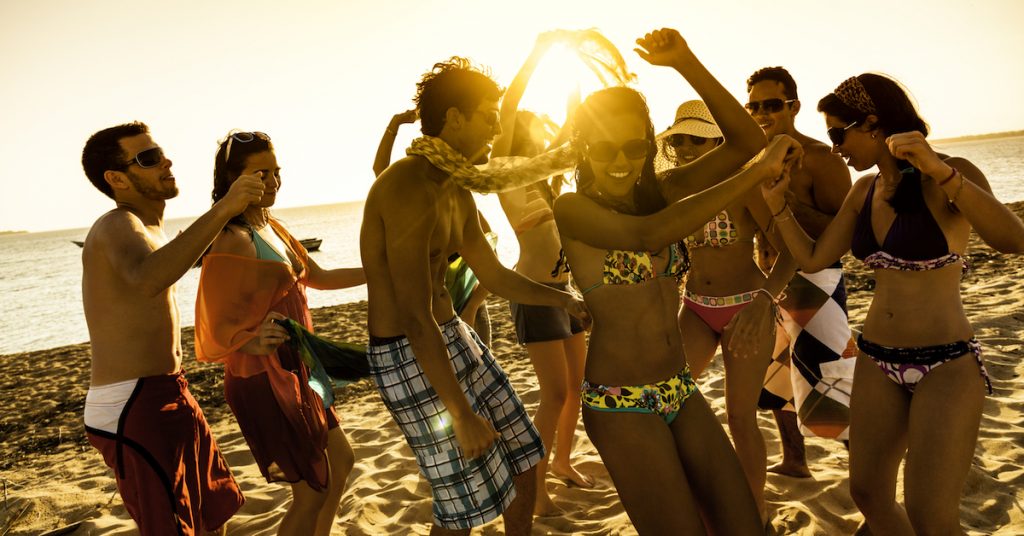 Spring break is a time for college students to get some well-deserved rest from their studies. Unfortunately, all of the fun can also have unintended consequences. The following spring break tips from FastMed will help ensure that you come back safe and healthy.
How Important Are STD Prevention Methods During Spring Break?
Approximately 25% of sexually active adolescents have sexually transmitted diseases, ranging from chlamydia to human papillomavirus. Even with the best of intentions, everything from the general party atmosphere to the alcohol and recreational drugs that are often a part of spring break can lower inhibitions and lead to infections and even pregnancy. Following basic STD prevention methods and spring break tips can keep you from becoming another statistic.
What Are Some Ways to Prevent STDs During Spring Break?
The only 100% effective way to prevent contracting a sexually transmitted disease is to not have unprotected sex outside of a monogamous relationship with someone you know to be free of STDs. If you do engage in sex with someone, there are ways to prevent STDs and other unintended consequences:
Make sure you use a latex condom or dental dam when engaging in penetrative or oral sex. If your prospective partner refuses, they obviously do not care about your health or theirs and are not worth your time no matter how attractive or charming they may seem.
Women should be honest with their doctor about their sexual activity and consider additional forms of contraception to prevent unintended pregnancy.
Limit your intake of alcohol and other substances that can cloud your judgment or your ability to consent to sex. In general, if you are too drunk to drive or walk home, you are probably too drunk to effectively consent to sex. For most women, that is about two drinks.
What Strategies Can I Use for Spring Break Safety?
In addition to preventing sexually transmitted diseases, sexual assault and even accidents are also important spring break safety concerns. Be sure that you follow these commonsense spring break tips while enjoying yourself with your friends:
Use the buddy or check-in system with your friends so that someone knows your whereabouts at all times.
Make sure that you have an extra battery or charger for your phone in case of emergencies.
It only takes a moment for someone to spike your drink with a date-rape drug, so never leave drinks unattended or with someone you just met.
If a person or situation makes you feel uncomfortable, leave as quickly as possible. It is also a good idea to have a distress signal you can give your friends if you start to feel uncomfortable in a situation. This can be saying a code word or even sending a text using a single letter or emoji.
Bring your own prescription and over-the-counter medications in case of emergencies. This will ensure that you know exactly what you are taking.
An empty stomach can intensify the effects of alcohol, so be sure to eat a healthy meal or snack before consuming alcohol. It is also a good idea to drink a glass of water between each alcoholic drink. This will help limit your alcohol consumption and prevent you from becoming dehydrated.
Don't forget sunglasses and sunscreen when heading to the beach. Even one bad sunburn during your teens and twenties can drastically increase your chances of developing skin cancer later in life.
Wear appropriate safety gear, such as life jackets and helmets, when participating in sports or other activities.
Never attempt dangerous activities, such as surfing, water skiing, or boating, while intoxicated.
Always have a designated driver or use a ride-sharing service when going out to a club or party where you will be drinking.
How Do I Know If I Should Visit an STD Clinic Near Me?
If you do have an unprotected sexual encounter during spring break or develop unexplained genitourinary symptoms, such as burning with urination or an unusual vaginal or penile discharge, you should see a healthcare provider as soon as possible for STD testing. Depending on the test, most STDs can be detected within two weeks to three months following infection. Prompt testing and treatment can prevent long-term complications and reduce the risk of transmitting the infection to someone else.
Where Can I Find an STD Clinic Near Me?
For more information on ways to prevent STDs or for confidential STD testing services, contact your closest FastMed location. We have more than 100 locations throughout Arizona, Texas, and North Carolina, and are open seven days a week with extended hours and offer convenient online registration and check-in so that you can skip the line and be seen faster.
About FastMed
FastMed Urgent Care owns and operates nearly 200 centers in North Carolina, Arizona and Texas that provide a broad range of acute/episodic and preventive healthcare services 365 days a year. FastMed also provides workers' compensation and other occupational health services at all its centers, and family and sports medicine services at select locations. FastMed has successfully treated more than six million patients and is the only independent urgent care operator in North Carolina, Arizona and Texas to be awarded The Joint Commission's Gold Seal of Approval® for quality, safety and infection control in ambulatory healthcare. For more information about locations, services, hours of operation, insurance and prices, visit www.fastmed.com.