Poison ivy is a North American plant that grows in three-leaf clusters that range from light green to dark green. However, poison ivy is best known for the inflammation it causes when it makes contact with human skin. About 85% of the population is allergic to poison ivy, poison sumac, or poison oak, making it an incredibly common allergen within the U.S. If you find yourself wondering, "How can I tell if I have poison ivy?"
Leaves of Three? Let Them Be! A Quick Guide to Tell if You Have Poison Ivy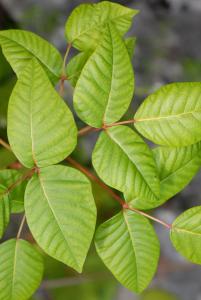 The top 5 things everyone should know about poison ivy:
Poison ivy can cause extreme itching and swelling of the skin, as well as cause outbreaks of blisters arranged in streaks or lines. The pattern of the blisters is most likely due to the way in which the leaves rubbed against your skin on contact. (rich media: insert photos of poison ivy rash)
Some people are immune to poison ivy and will suffer no symptoms after they've touched it. However, immunity can cease at any time, so you should not assume that you are immune, even if you were in the past.
Many people think that washing the infected area will keep the poison ivy from spreading. Unfortunately, taking a hot shower or bath can actually open your pores and let the poisonous oil in. Doctors advise rinsing with cold water to prevent spreading until all of the oil is washed off of your skin.
Poison ivy usually lasts one week to three weeks
The oil from poison ivy does not lose its potency over time, so make sure you wash any clothing or tools that have come into contact with poison ivy, or you run the risk of contracting it again.
If you are unable to tell if you have poison ivy, our team of professionals can help diagnose and treat your symptoms quickly and affordably. FastMed's exceptional and compassionate healthcare providers are here to help 7 days a week, require no appointment, and strive to get you in and out in an hour or less.