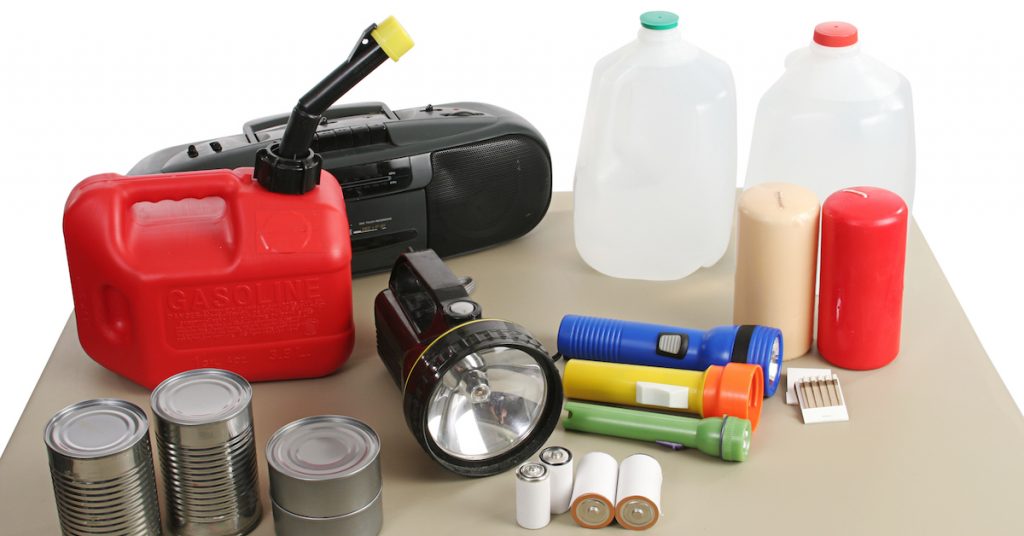 If you live in a coastal area, you already know that hurricane season is in full swing. FastMed's hurricane medical prep list will help you get ready ahead of time and avoid the crowds and chaos if a storm should head your way.
What Should My Hurricane Preparation Checklist Include?
Your hurricane preparation checklist should cover the following basics:
Food: You should have at least a three-day supply of non-perishable food that does not require cooking or refrigeration.
Water: You should have a three-day supply of water. Allocating a gallon of water a day per person will allow each person two quarts of water a day for drinking and two quarts for food preparation and sanitation. Nursing women should drink approximately an extra quart of water a day to replace the fluids lost during nursing.
Sanitation, Clothing, and Bedding: Whether you shelter in place in your home or evacuate to a shelter, your hurricane medical supply checklist should include basic hygiene and sanitation items designed to keep you and your surroundings as clean and comfortable as possible.
Household cleaning and personal hygiene supplies can be hard to come by immediately before and after a hurricane, so you should stock up ahead of time on toilet paper, paper towels, moist towelettes, soap, detergent, no-rinse shampoo, feminine hygiene products, sunscreen, trash bags, buckets, disinfectants, and bleach.
Your emergency kit should also include at least one complete change of clothing per person, extra shoes, work boots, gloves, a hat, rain gear, sleeping bags or extra blankets, and sunglasses.
Medical Supplies for Hurricane Recovery: Your hurricane medical supply checklist should include basic first aid supplies for injuries that you may experience during or after the storm, any prescription medications you take, and over-the-counter medications to manage headaches and stomach issues, such as diarrhea and constipation.
Tools and Emergency Supplies: While making your medical prep list, you should also make a list of tools and emergency supplies that can help you get by until power is restored or emergency help arrives, including:
Mess kits or disposable plates and utensils
Extra cash
Flashlight with extra batteries
Pliers, screwdriver, wrench, and other basic tools
Plastic sheeting
Signal flares and a whistle
Duct tape
Fire extinguisher
Utility knife
Nonelectric can opener
Special Items: Board games, toys, books, and other items that do not require electricity can help pass the time and distract nervous children. Of course, you should also consider the comfort and safety of your pets. Although it may be difficult, you may need to consider arranging boarding or foster care ahead of time in a safe location until the storm is over. If your pet will be riding out the storm with you, make sure that you have at least a week's supply of food, water, medications, litter, and other necessities, as these items may be hard to find in stores following the storm.
What Should I Include on a Hurricane Preparation Checklist for Pregnant Women and Infants?
Mosquitos are a common problem following hurricanes. To protect themselves from Zika and other harmful mosquito-borne viruses that can harm an unborn baby, pregnant women should make sure they have plenty of insect repellent on hand. Of course, don't forget extra bottles, diapers, and formula for the little one.
What Should I Include on a Hurricane Medical Supply Checklist for an Older Adult and Persons with Disabilities?
When preparing your list of medical supplies for hurricane evacuation, don't forget to include any assistive devices that your loved one may need, including:
Extra batteries for hearing aids
Eyeglasses
Canes or walkers
Extra oxygen canisters
A way to charge electric wheelchairs or scooters
An emergency food supply for individuals with special dietary needs
If your loved one has special functional, cognitive, or behavioral needs, it is a good idea to call nearby shelters or local emergency management authorities well in advance of the storm to determine which shelters are in the best position to accommodate your loved one's needs. Remember that older adults and others with special needs may have a harder time coping with the physical and emotional stress of a hurricane and its aftermath, so you should be prepared to offer extra support and patience.
Preparing for a hurricane or cleaning up afterward can be strenuous. Should you get injured, FastMed is conveniently available 7 days a week with extended hours to help you recover quickly. With more than 100 locations throughout Arizona, North Carolina, and Texas, you are never far away from the help that you need.
About FastMed
FastMed Urgent Care owns and operates nearly 200 centers in North Carolina, Arizona and Texas that provide a broad range of acute/episodic and preventive healthcare services 365 days a year. FastMed also provides workers' compensation and other occupational health services at all its centers, and family and sports medicine services at select locations. FastMed has successfully treated more than six million patients and is the only independent urgent care operator in North Carolina, Arizona and Texas to be awarded The Joint Commission's Gold Seal of Approval® for quality, safety and infection control in ambulatory healthcare. For more information about locations, services, hours of operation, insurance and prices, visit www.fastmed.com.