How Much Is an Urgent Care Visit?
When it comes to getting proper health care, there are often times a number of questions that may come up: How severe is my condition? Is this an emergency?  If you think that your condition or injury is life-threatening, call 9-1-1 or go directly to the emergency room. Urgent Care is immediate care for non-life threatening illnesses and minor injuries. 
In that same fashion, the emergency room is not the best place for non-life threatening illnesses either.  When you go to the ER for the treatment of common conditions such as strep throat or sinusitis, the cost of your visit may surprise you.  Spending time and money at the ER for conditions that can be addressed at FastMed Urgent Care will definitely help you understand how much an urgent care visit can save you.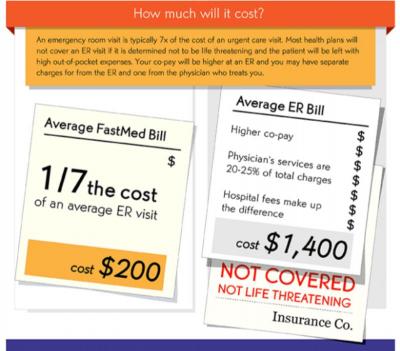 How Much Is Urgent Care Visit Compared To The ER
How much is urgent care visit compared to a trip to the emergency room? A walk-in clinic generally has substantially cheaper prices than the ER. The Annals of Internal Medicine found that the average cost of an urgent care visit for three common illnesses was $155 compared to $570 at the ER.
Now, as is the case with most situations, the price at the emergency room is going to depend highly on the severity of the patient's illness or injury, but in most instances if the same ailment can treated at an Urgent Care and the ER, it will be cheaper at Urgent Care. However, if the ailment is severe enough to keep the patient overnight, it is likely a good idea to see the doctors in the emergency room, regardless of the price. In the end, do what is best for you, but if you are on a budget and you feel that your ailment isn't life-threatening, the economic decision is to visit FastMed Urgent Care.