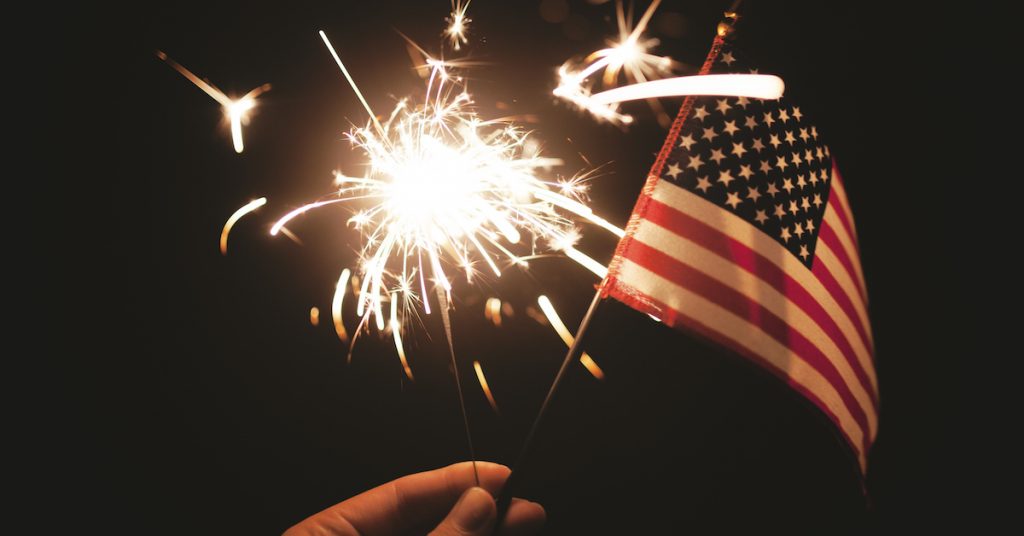 Don't let your family's holiday celebration get derailed by a case of food poisoning, a fireworks display gone wrong, or fears of COVID-19. By following a few simple 4th of July safety tips, you can celebrate the holiday with no need for an unscheduled trip to your local FastMed Urgent Care.
What Are Some 4th of July Safety Tips to Prevent COVID-19?
This year, large events pose a dangerous new challenge. Thanks to COVID-19, event planning has never been more essential to keep everyone safe.
Ideally, you should avoid large gatherings and opt for a smaller celebration at home. If you plan to have guests, make sure you factor COVID-19 into the event planning process.
Here are some important items to include on your COVID-19 safety checklist:
When holding an event:
Hold your event outdoors, or in a well-ventilated area.
Limit the number of guests and stagger their arrival times; or provide multiple entrances and exits to avoid crowding in any one area.
Remind your guests to practice social distancing and encourage them to wear masks, except while eating or drinking.
Frequently disinfect commonly used areas, such as restrooms, and make sure you provide sufficient supplies of paper towels, soap, and/or hand sanitizer.
When attending an event:
Maintain social distancing, whenever possible.
Wear a mask, except while eating or drinking.
What 4th of July Food Safety Tips Should I Follow?
Although there has been no link found between food and COVID-19, sharing food, food utensils, and congregating in food service areas can pose risks. If you're hosting a 4th of July event, it's important to follow this COVID-19 safety checklist:
Provide separate, disposable utensils and dishes for each guest.
Avoid buffets, salad bars, drink stations, and other areas where people congregate or share items.
Offer individually packaged servings of items such as chips, water, and fruit juice.
Wear gloves while preparing and serving food, and wash hands carefully after removing.
Frequently clean and disinfect all commonly touched surfaces.
Food poisoning is another concern at this time of year, particularly when holding outdoor events. The CDC recommends four simple steps to keep those you care about safe from contaminated food:
1.Clean: Wash hands, utensils, cutting boards, and countertops frequently. Rinse fresh fruits and vegetables under running water.
.
2. Separate: Keep foods such as raw meat, poultry, eggs, and seafood separate during shopping, storing, and preparation to avoid cross-contamination.
3. Cook: It's important to cook foods to a high enough temperature to kill germs. Use a food thermometer to check doneness, rather than simply relying on color or texture.
4. Chill: Perishable foods should be refrigerated after one hour when the outdoor temperature reaches 90 degrees or above—after two hours in temperatures below 90 degrees. Always thaw frozen foods in the refrigerator, cold water, or a microwave.
How to Safely Handle 4th of July Fireworks
Fireworks often play a starring role in 4th of July events. If not handled properly, however, they can quickly bring your celebration to a halt. The National Safety Council recommends leaving fireworks to the professionals.
If you do plan to set off your own fireworks, the National Safety Council suggests you adhere to these essential 4th of July safety tips:
Never allow children to handle fireworks. Even sparklers can quickly ignite clothing. More than 25% of emergency room visits for fireworks injuries are caused by sparklers alone.
Don't relight or handle malfunctioning fireworks.
Never light fireworks indoors or in containers.
Don't set off fireworks while intoxicated or impaired.
Wear protective eyewear while handling fireworks.
Children should always have adult supervision around fireworks.
Never point or throw fireworks at another individual.
Keep fireworks away from other flammable materials.
Light only one item at a time and maintain a safe distance after lighting.
Keep a bucket of water nearby in case of fire, and to extinguish fireworks that don't go off.
Douse both used and unused fireworks in water before disposal.
Most importantly, never use illegal fireworks. According to the National Safety Council, the majority of fireworks incidents result from amateurs attempting to use homemade, professional-grade, or other unlawful fireworks.
We wish you and your family a safe and healthy 4th of July. Should you need to visit us, go online to check for your nearest locations and see hours of operation.
About FastMed
FastMed Urgent Care owns and operates nearly 200 centers in North Carolina, Arizona and Texas that provide a broad range of acute/episodic and preventive healthcare services 365 days a year. FastMed also provides workers' compensation and other occupational health services at all its centers, and family and sports medicine services at select locations. FastMed has successfully treated more than six million patients and is the only independent urgent care operator in North Carolina, Arizona and Texas to be awarded The Joint Commission's Gold Seal of Approval® for quality, safety and infection control in ambulatory healthcare. For more information about locations, services, hours of operation, insurance and prices, visit www.fastmed.com.