If you live in Charlotte, NC, you may have noticed the air getting colder. Cold air means flu season is right around the corner. In the United States, "flu season" can start as early as October and last until May. If you have thought about flu season, you have also probably asked yourself: How to tell if I have the flu? Determining whether or not you have the flu can be difficult, as many of the symptoms are common in other illnesses. FastMed in Charlotte, NC, can answer the question "how to tell if I have the flu?" and provide treatment for the flu and other illnesses.
Common Symptoms of the Flu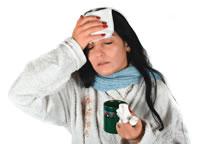 The flu is most commonly mistaken for a cold. It is important to know the difference between the two, so you can receive the proper medical treatment. A cold is a respiratory illness that is typically milder than the flu, and the symptoms may only last a few days. The flu is usually worse, and symptoms can last for weeks. The flu can also lead to other serious health issues such as pneumonia and hospitalizations.
Some common flu symptoms include:
100 degree Fahrenheit or higher fever (not everyone with the flu has a fever)
Sore throat and/or cough
Stuffy or runny nose
Headaches and/or body aches
Chills
Fatigue
Nausea, vomiting, and/or diarrhea (most common in children)
If you are experiencing these symptoms, and are still not sure if you have a cold or the flu, experts recommend taking your temperature. It is rare that a fever associated with a cold rises above 101 degrees. If you have the flu, you will probably feel miserable, and your symptoms will likely be worse than those of previous colds.
If you are still asking yourself "how to tell if I have the flu," visit one of FastMed's two Charlotte, NC, locations. Our medical professionals are on site 365 days a year to provide you with treatment for the flu and many other non-life-threatening injuries or illnesses.