Did you know that high blood pressure, or hypertension, doesn't typically cause noticeable signs and symptoms? Hypertension is a common condition that affects millions of people. In fact, hypertension is the most common cardiovascular disease and is the leading cause of heart attack and stroke. But if you have it, you may not even realize it.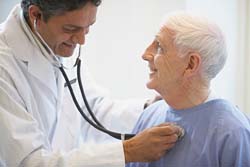 Because hypertension signs and symptoms of often unnoticeable, it is important to regularly check your blood pressure, especially if you have a relative who has high blood pressure. Some people are more at risk for hypertension than others, and you could be at high risk if:
You have diabetes
You smoke
You are stressed or anxious often
You are obese
You have a family history of high blood pressure
You eat too much salt
You drink too much alcohol
You can check your blood pressure at home with a blood pressure monitor or have it checked by a medical professional at a doctor's office or urgent care. You can learn more about blood pressure readings from the American Heart Association here.
Malignant Hypertension
Although hypertension does not typically have noticeable signs and symptoms, malignant hypertension, a dangerous form of extremely high blood pressure, often does. Some common signs and symptoms of malignant hypertension include:
Nausea or vomiting
Severe headache
Changes in vision
Confusion
Nosebleed
If you are experiencing any of these symptoms, call 911 immediately.
If you are not experiencing any signs or symptoms but would like to have your blood pressure checked by a medical professional, come to FastMed Urgent Care. We can provide you with a blood pressure reading and discuss with you what your numbers mean. If your blood pressure is high, we can provide you with illness management for hypertension or refer you to a specialist for further treatment. In order to have your blood pressure evaluated at FastMed, the patient must complete an office visit.
About FastMed
FastMed Urgent Care owns and operates nearly 200 centers in North Carolina, Arizona and Texas that provide a broad range of acute/episodic and preventive healthcare services 365 days a year. FastMed also provides workers' compensation and other occupational health services at all its centers, and family and sports medicine services at select locations. FastMed has successfully treated more than six million patients and is the only independent urgent care operator in North Carolina, Arizona and Texas to be awarded The Joint Commission's Gold Seal of Approval® for quality, safety and infection control in ambulatory healthcare. For more information about locations, services, hours of operation, insurance and prices, visit www.fastmed.com.