Irritable Bowel Syndrome (IBS) is a disorder defined by symptoms of chronic abdominal discomfort, combined with bouts of constipation and/or diarrhea. It's estimated that IBS symptoms affect close to one in five adult in the US. If you experience mild to intense abdominal pain, bloating, and difficulty having normal bowel movements, you may want to consult a medical professional, as these could be signs of IBS.
Recognize the Signs of Irritable Bowel Syndrome
Abdominal pain and diarrhea can also be symptoms of other serious conditions. Since there is no definitive test to diagnose irritable bowel syndrome symptoms, medical professionals often conduct tests to rule out other possible causes.
Symptoms of IBS
There are consistent symptoms of IBS, though they may vary in frequency and intensity. They include:

Abdominal pain
Gas and bloating
Problems with bowel movements, including diarrhea, constipation, or both
These symptoms, occurring with regularity over the course of several months, can be indicators of IBS.
Here are a few other characteristics associated with the disorder:

The need to defecate comes on suddenly and urgently, often after a meal.
Abdominal pain changes after a bowel movement.
IBS Symptoms vs. Other Disorders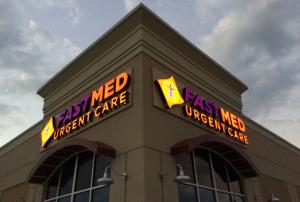 These symptoms are not typical with IBS, but they can be an indicator of other medical problems:

Blood in the stool
Fever
Anemia
Unexplained weight loss
IBS Response at FastMed Urgent Care
There is no known specific cause of IBS, but at FastMed Urgent Care, we can offer help and treatment for the symptoms you may be experiencing. Our medical professionals are committed to providing compassionate care of the highest professional standards. You don't need an appointment, simply walk into your local clinic.
The unpredictability of irritable bowel syndrome symptoms can be difficult to manage and can cause serious stress in your life. The FastMed Urgent Care treatment model will always include compassionate care and personal attention to help you find the best solution for managing your symptoms.
Don't just take our word for it, though. Check out what our happy patients have to say, like Kim R., who said: "Being sick stinks, but my experience at the urgent care clinic was top notch. ALL of the staff were kind, helpful, and good listeners. The medical center was much more attractive than the typical walk-in clinic and the service was amazing. If I had to feel bad enough to see a family doctor, at least I was fortunate to have a clinic like this one nearby. Thank you!!!"
———-
Sources:
About IBS: http://www.aboutibs.org/site/signs-symptoms
Mayo Clinic: https://www.mayoclinic.org/diseases-conditions/irritable-bowel-syndrome/basics