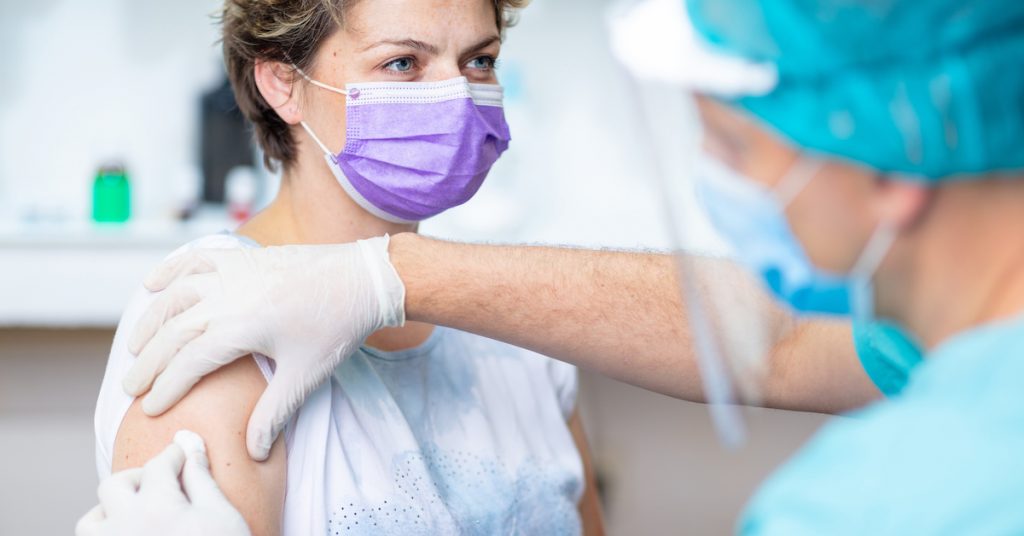 As we're still in the midst of the COVID-19 pandemic, many people are unsure about what to expect as we approach flu season 2020. If you're undecided about whether you should get a flu shot this fall, keep reading to find out why medical providers are urging everyone to get vaccinated.
How Will COVID-19 Affect Flu Season 2020?
Although it's not possible to say with any certainty how COVID-19 will affect flu season 2020, healthcare officials currently believe that both of these illnesses will be spreading this fall and winter.
Their biggest concern is how both COVID-19 and the flu will impact the healthcare system and its workers this year. Research from the Centers for Disease Control and Prevention (CDC) found that during an average flu season, more than 200,000 people in the United States are hospitalized due to flu-related complications. Given that many hospitals are already struggling to keep up with large numbers of coronavirus patients, it's easy to see how the combination of COVID-19 and flu season could overtax an already overwhelmed healthcare system and its exhausted workers.
While healthcare professionals hope that the same measures we're taking to avoid COVID-19—wearing masks, practicing social distancing, and frequently washing our hands—will slow the spread of the seasonal flu, they're firm in their belief that receiving a flu shot is the most important action you can take to try to prevent it.
Why Should I Get a Flu Shot During COVID-19 and Flu Season?
Medical professionals recommend getting an annual flu shot, but 2020 presents a unique challenge because so many hospitals across the country are currently filled with COVID-19 patients. Keep in mind that during every flu season, there's a huge increase in doctor visits, emergency room visits, hospitalizations, and patients requiring care in the ICU, so even a slight rise in the number of flu cases this year could completely overwhelm our already-strained healthcare system.
The flu shot can help to prevent unnecessary doctor and hospital visits, helping healthcare facilities avoid becoming overwhelmed with flu and COVID-19 patients. The fewer flu patients hospitals have, the more resources they'll have for treating other patients. Getting a flu shot can also help to show your support for busy healthcare workers during this stressful time.
In addition to conserving healthcare resources and reducing the burden on frontline hospital workers, getting a flu shot will reduce your risk of developing flu and COVID-19 simultaneously. According to the CDC, it's possible to have these two illnesses at the same time. Since some of the symptoms of COVID and the flu are very similar, it can be difficult to determine which one you have without diagnostic testing.
What Are the Benefits of Flu Shot Vaccination?
There are many reasons to be vaccinated against the flu each year. Here are some benefits of flu shot efficacy for you to consider:
The vaccine can help to prevent you from getting sick from the flu.
The flu vaccine can reduce the severity of illness if you do get sick.
You can help to protect the health of your loved ones and others in your community.
A flu vaccine can prevent serious complications from the flu, especially if you're an older adult or have a chronic health problem.
In older adults and children, the flu vaccine reduces the risk of hospitalization.
According to the CDC, the flu shot can help to protect women during pregnancy, and help infants who are too young for the.
When Is the Best Time to Get a Flu Shot During COVID-19 and Flu Season?
After you receive the flu vaccine, it takes about two weeks for your body to produce the antibodies that provide protection, so it's important to get your flu shot before the season begins. The CDC recommends that everyone over the age of six months get a flu shot every year. It's especially important for vulnerable members of the population to receive a flu shot during this dangerous COVID-19 and flu season, including adults over 65, caregivers, essential workers, pregnant women, and people with pre-existing conditions such as heart disease, diabetes, and asthma.
According to the CDC, the best time to receive a flu shot is during September and October. However, they don't recommend getting vaccinated before September because the vaccine offers protection for about six months and flu season typically lasts through March or April. Since the effectiveness of the flu shot can diminish over time, you might not be protected later in the season if you receive the vaccine too early.
The CDC recommends that people receive their flu shot before the start of flu season, but receiving one later is better than not receiving one at all!
Where Can I Get a Flu Shot Near Me?
You can safely get a flu shot at your local FastMed Urgent Care clinic. You can feel safe coming to us to get your flu shot because we are committed to providing the highest level of care and follows the highest standards and protocols for sanitization.
About FastMed
FastMed Urgent Care owns and operates nearly 200 centers in North Carolina, Arizona and Texas that provide a broad range of acute/episodic and preventive healthcare services 365 days a year. FastMed also provides workers' compensation and other occupational health services at all its centers, and family and sports medicine services at select locations. FastMed has successfully treated more than six million patients and is the only independent urgent care operator in North Carolina, Arizona and Texas to be awarded The Joint Commission's Gold Seal of Approval® for quality, safety and infection control in ambulatory healthcare. For more information about locations, services, hours of operation, insurance and prices, visit www.fastmed.com.