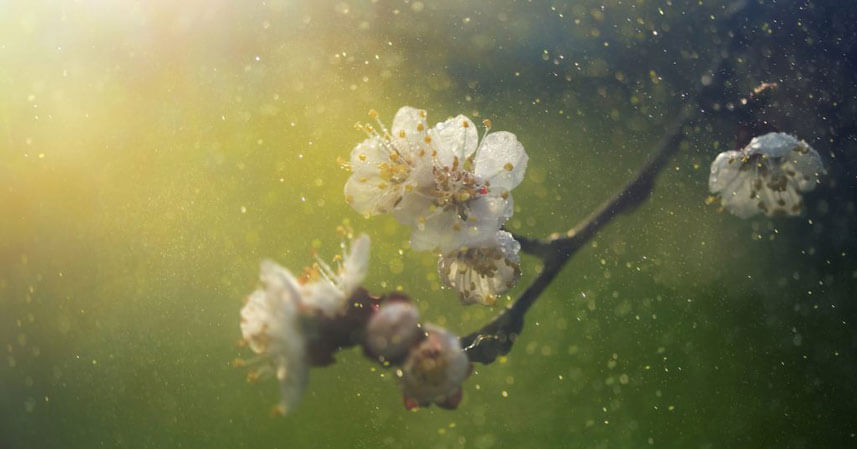 Spring brings blooming flowers, sunnier days, and the promise of summer on the horizon. For many, it also brings spring allergy season. Coughing, sneezing, sniffling, sore throat – sound familiar?
Pre-COVID-19, you probably weren't too alarmed when you developed allergy symptoms like these. But now you may be asking yourself, is it allergies or COVID-19? Keep reading to find out when you should get a COVID-19 test and when you're simply in need of spring allergy relief.
COVID-19 & allergies: not all symptoms are equal
When assessing the symptoms of allergies vs. COVID-19, it's easy to understand why people get confused. Many of the symptoms are similar, making it difficult to distinguish between allergies or COVID-19 on your own.
First, let's break down some of the more obvious differences between the two.
Acute vs. chronic
Like the flu, COVID-19 is an acute illness, meaning that people feel fine until symptoms begin to appear.
Allergies, on the other hand, are usually chronic or predictably seasonal, with symptoms that can be off and on for days, weeks, months, or even years. These symptoms are usually more prevalent during spring allergy season, but can be triggered by a variety of conditions, including exposure to dust, pollen, or animal dander.
Trouble in the respiratory tract
Allergy symptoms are typically isolated to the respiratory tract, which is the part of your body associated with breathing (nose, throat, lungs, etc.). Allergies may also cause wheezing, especially in people with asthma. But allergies should not cause a fever or body aches, and generally do not cause a cough unless you have significant nasal drainage.
No need for tissues with COVID-19
A runny or stuffy nose, sneezing, and itchy eyes are common symptoms of spring allergies, but not of COVID-19.
The CDC's take on allergies vs. COVID-19 symptoms
Still confused? The Centers for Disease Control and Prevention (CDC) has issued numerous guidelines to help people distinguish between the symptoms of COVID-19 and allergies.
As noted above, sneezing and itchy eyes are usually only symptoms of allergies. These symptoms tend to improve with antihistamines and other allergy-specific medications.
The symptoms typically associated with COVID-19 and NOT allergies include:
Fever
Body or muscle aches
Loss of taste or smell
Nausea or vomiting
Diarrhea
The symptoms that can indicate EITHER COVID-19 or allergies include:
Cough
Shortness of breath
Fatigue
Headache
Sore throat
I have allergy symptoms. What should I do?
Spring allergies may not be as life-threatening as COVID-19, but they can still greatly impact your life. If you're suffering from allergy symptoms, FastMed offers many forms of effective allergy treatment. You don't have to sneeze and sniffle your way through spring – contact us today to learn how we can help.
Be sure to have a COVID-19 test if:
Your allergy symptoms do not improve after three to four days of taking antihistamines, nasal sprays, eye drops, and/or allergy prescriptions, or seem to be getting worse.
You develop additional symptoms such as a fever, cough, headache, loss of taste or smell, shortness of breath, or gastrointestinal issues (nausea, diarrhea, vomiting, etc.).
You're experiencing allergy and/or COVID-19 symptoms and have been exposed to someone with COVID-19.
I have COVID-19 symptoms. What should I do?
The answer is simple – contact your local FastMed Urgent Care as soon as possible to schedule a COVID-19 test. The best way to protect yourself and others is to know if you're infected with SARS-CoV-2, the virus that causes COVID-19. Taking a diagnostic test promptly can also help stop the spread of the virus.
FastMed is here to answer your questions about COVID-19 and allergies. Please visit our COVID-19 testing service page to learn more about the virus, including commonly asked questions.
About FastMed
FastMed Urgent Care owns and operates nearly 200 centers in North Carolina, Arizona and Texas that provide a broad range of acute/episodic and preventive healthcare services 365 days a year. FastMed also provides workers' compensation and other occupational health services at all its centers, and family and sports medicine services at select locations. FastMed has successfully treated more than six million patients and is the only independent urgent care operator in North Carolina, Arizona and Texas to be awarded The Joint Commission's Gold Seal of Approval® for quality, safety and infection control in ambulatory healthcare. For more information about locations, services, hours of operation, insurance and prices, visit www.fastmed.com.