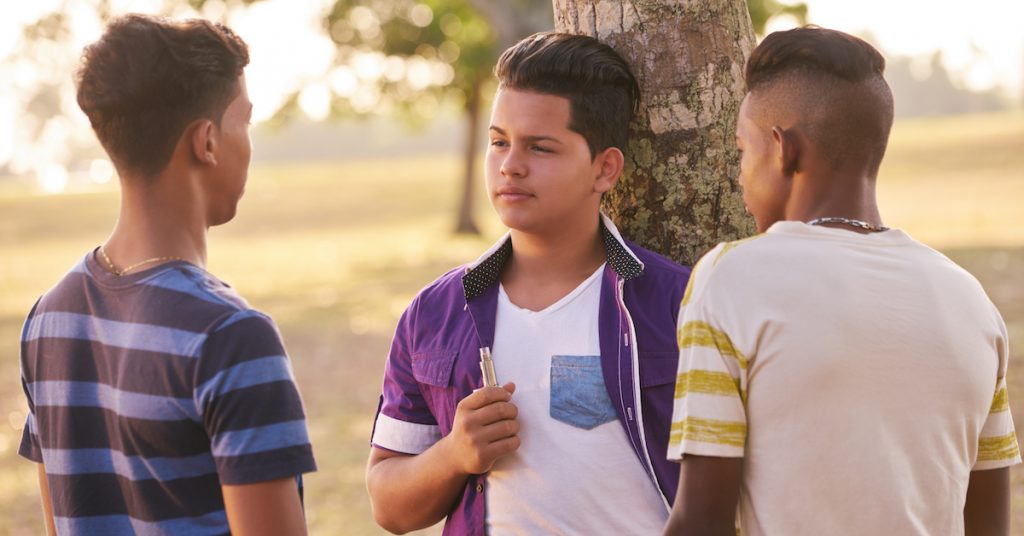 E-cigarettes, electronic devices that turn liquid into an aerosol that the user inhales, are extremely popular among youth and young adults. A 2015 survey of high school students found that as many as one in six had used e-cigarettes within the past month. The fact that e-cigarette devices and juices are not regulated to the same extent as traditional cigarettes makes them easily accessible to young people. The products are also often marketed as safe even though they can contain as much or more nicotine than cigarettes. The fact that many of the e-cigarette juices have catchy names and additional flavorings, such as fruit or candy flavors, makes them particularly attractive to young people. The following answers common questions that parents may have about e-cigarettes, including:
Is smoking vapor bad for you?
Is vapor smoke bad?
What are the vapor smoking dangers for young people?
What are the unique hazards of e-cigarette smoking?
How do I talk to my child about e-cigarette dangers?
Is Smoking Vapor Bad for You?
The fact that e-cigarettes are marketed as being safer than traditional cigarettes may have you wondering, "Is smoking vapor bad for you?" Although the long-term effects of e-cigarettes are still being studied, it is clear that e-cigarette aerosol is not simply harmless water vapor. The vapor is comprised of ultrafine particles that are able to travel deep into the lungs. These particles contain any number of volatile organic compounds, heavy metals, and cancer-causing chemicals. The flavorings that make the products so palatable often contain diacetyl, which has been linked to serious lung diseases. A single JUUL pod, which is the most popular brand of e-cigarette, contains as much nicotine as an entire pack of cigarettes. Even juices that are marketed as nicotine-free have been found to contain nicotine, which is highly addictive.
Why Is Vapor Smoke Bad for You?
While there is no safe amount of nicotine consumption, it is particularly dangerous during adolescent brain development. According to a report by the U.S. Department of Health and Human Services, nicotine negatively affects the part of the brain that controls learning, mood, impulse control, and attention. Nicotine can also alter the formation of synapses between brain cells that are created during learning and memory formation.
What Are the E-Cigarette Dangers for Kids, Teens, and Young Adults?
A report by the National Academy of Medicine found that e-cigarette use by young people may increase the likelihood and frequency of cigarette smoking in the future. There is even some evidence linking nicotine use during adolescence with an increased risk of addiction to other drugs in the future.
Miscellaneous Hazards of E-Cigarette Smoking:
E-cigarette juices are highly concentrated and can be toxic when swallowed or absorbed through the skin or eyes. There have also been instances where e-cigarette batteries have caught fire or even exploded resulting in serious injuries, including burns.
Tips for Talking to Your Child About Vapor Smoking Dangers:
It is never too late to talk to your child or teen about e-cigarette dangers. Parents should let their children know that all nicotine and tobacco products, including e-cigarettes, are potentially harmful. It may be helpful to bring up the issue during an appointment with your child's doctor since teens are often more receptive when the message comes from someone other than a parent. Encourage your child's school to enact and enforce tobacco-free policies and to implement a tobacco prevention curriculum. Of course, you should set the example by avoiding tobacco and nicotine products yourself. If you are finding it hard to stop smoking, you can get free help by calling 1-800-QUIT-NOW or by visiting smokefree.gov.
Rather than a formal discussion, try to bring up the topic of smoking and e-cigarettes in a casual and natural way. For example, ask your child what they think about smoking and e-cigarettes as you pass a vape shop on the way to the grocery store or after seeing a commercial on TV. It is also okay for the conversation to take place in bits and pieces over time. The important thing is that you communicate and reinforce the message that nicotine and e-cigarettes are harmful.
At FastMed, we are committed to ensuring your family's long-term health. From vaccinations to physicals and chronic disease management, our skilled staff is here for you. We have more than 100 convenient locations throughout Texas, Arizona, and North Carolina, so getting the health care that you need is fast and easy. We are open seven days a week, and we always accept walk-ins. Call or stop by today for more information.
About FastMed
FastMed Urgent Care owns and operates nearly 200 centers in North Carolina, Arizona and Texas that provide a broad range of acute/episodic and preventive healthcare services 365 days a year. FastMed also provides workers' compensation and other occupational health services at all its centers, and family and sports medicine services at select locations. FastMed has successfully treated more than six million patients and is the only independent urgent care operator in North Carolina, Arizona and Texas to be awarded The Joint Commission's Gold Seal of Approval® for quality, safety and infection control in ambulatory healthcare. For more information about locations, services, hours of operation, insurance and prices, visit www.fastmed.com.