Looking for Low-Cost Urgent Care?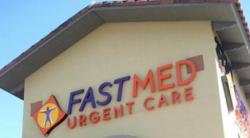 You should check out FastMed Urgent Care in North Carolina and Arizona; to find us, just type in your zip code and head for the low-cost urgent care clinic nearest to you. FastMed Urgent Care walk-in clinics deliver convenient and affordable healthcare in your own neighborhood. Being a walk-in clinic, we don't require that you schedule an appointment. We're open when you need us to be, every single day of the year, including holidays.
Why is FastMed a low-cost urgent care facility?
FastMed Urgent Care clinics are designed to provide immediate care for common illnesses and minor injuries. We keep our overhead costs down through the following methods:
Using electronic health records.  No paper bills or dozens of forms.  All your information is electronically filed and can be easily transferred if you need a referral to a specialist.
Having on-site labs.  We do all of our testing on site, unlike a doctor's office that needs to send samples to an outside lab. Not only do you get your test results more quickly, you save the cost of shipping and paying another vendor.
Digital Imaging.  Every FastMed Urgent Care clinic has it's own digital x-ray equipment. If you need an x-ray, you get one right away. Since the images are digital, they are stored with your health records.  No chasing around films taken by a different vendor.
Online Bill Pay. The less paper we handle, the more money we can save our patients. You authorize a payment source online, including any dependent you for whom you plan to pay. So if your son is getting a sports physical, you don't have to give him your card or take off work to pay for services.
Do low-cost urgent care clinics take insurance?
FastMed walk-in clinics accept most major insurance plans. Check here for North Carolina and here for Arizona.
What if I don't have insurance?
We understand that a lot of people have gone through changes that make it hard to financially prioritize healthcare. Our FastMed low-cost urgent care discount program helps people without health insurance manage their healthcare costs: Healthy Life, Happy Price .
Isn't it just easier and cheaper to go the emergency room?
You should always go to the hospital for emergency care.  Anytime you think your condition could be life-threatening, you should dial 9-1-1 and get to a hospital right away. We offer an interactive tool to distinguish between urgent care and emergency care, but remember that if you think you should go to the ER, you should go to the ER.
There is nothing easier or cheaper about going to the ER for an ear infection or a sprained ankle.  The average wait time at FastMed low-cost urgent care clinics is one hour. The emergency room is four times greater than that. Plus, when you go to the ER for non life-threatening circumstances, you put unnecessary strain on a system designed to deal with serious, traumatic illness or injury.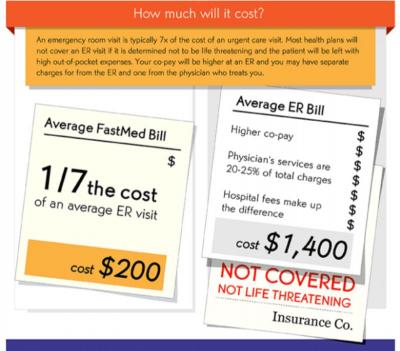 Additional Articles:
Urgent Care Medical Center |  Walk in Clinic |  Flu Shot Clinics | Clinics
About FastMed
FastMed Urgent Care owns and operates nearly 200 centers in North Carolina, Arizona and Texas that provide a broad range of acute/episodic and preventive healthcare services 365 days a year. FastMed also provides workers' compensation and other occupational health services at all its centers, and family and sports medicine services at select locations. FastMed has successfully treated more than six million patients and is the only independent urgent care operator in North Carolina, Arizona and Texas to be awarded The Joint Commission's Gold Seal of Approval® for quality, safety and infection control in ambulatory healthcare. For more information about locations, services, hours of operation, insurance and prices, visit www.fastmed.com.