Have you ever been tired all day but can't sleep at night due to restless legs and cramping muscles? These could be symptoms of having low potassium, or hypokalemia.
Potassium regulates your blood pressure and is important in keeping your nerves and muscles (including your heart) in good working condition. Proper treatment can help you feel better faster, and you can even get back some of that energy you've been missing throughout the day.
Hypokalemia Symptoms
The most common symptoms of low potassium include:
Weakness
Tiredness
Cramping muscles in arms and legs
Tingling or numbness
Nausea or vomiting
Constipation
Heart palpitations
If you are experiencing symptoms of low potassium levels, you should contact a healthcare provider immediately. They can perform a blood test to diagnose whether your symptoms are signs of a potassium deficiency.
Low Potassium Causes
Potassium is present in many common foods. Most often, your kidneys remove excess potassium through the urine to keep your body balanced.
Here are the most common causes for potassium deficiency:
Dehydration
Antibiotics
Kidney disease
Eating disorders
Diarrhea
Excessive sweating
Laxative abuse
Diuretics
Low Potassium Prevention and Treatment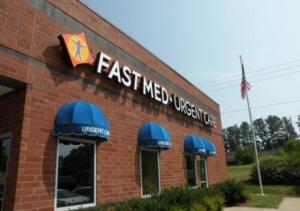 In severe potassium deficiency cases, life-threatening paralysis or heart rhythm problems can occur. At the first sign of severe vomiting or heart palpitations, contact a medical professional.
In order to maintain healthy potassium levels, we suggest incorporating the following foods as part of a balanced diet:
Avocados
Oat bran
Bananas
Milk
Oranges
Beans
Peas
Seaweed
Carrots
Peanut butter
Salmon
Tomatoes
Spinach
Chia seeds
A medical professional may recommend dietary supplements, such as oral potassium pills, if you have food allergies or frequently eat on the go.
Urgent Care Solutions for Low Potassium Symptoms
If you're suffering from low potassium, you can schedule a blood test to better understand your symptoms and treatment options.
At FastMed, we want to see you feeling better – and fast! FastMed is dedicated to high-quality, affordable, personal and convenient urgent care.
Get the reliable care you need, when you need it – but don't just take our word for it: Kim R. recently said, "ALL of the staff were kind, helpful and good listeners. The medical center was much more attractive than the typical walk-in clinic, and the service was amazing."
Contact us today if you think your symptoms are a sign of having low potassium.
———-
Sources:
Medline Plus: https://www.nlm.nih.gov/medlineplus/ency/article/000479.htm