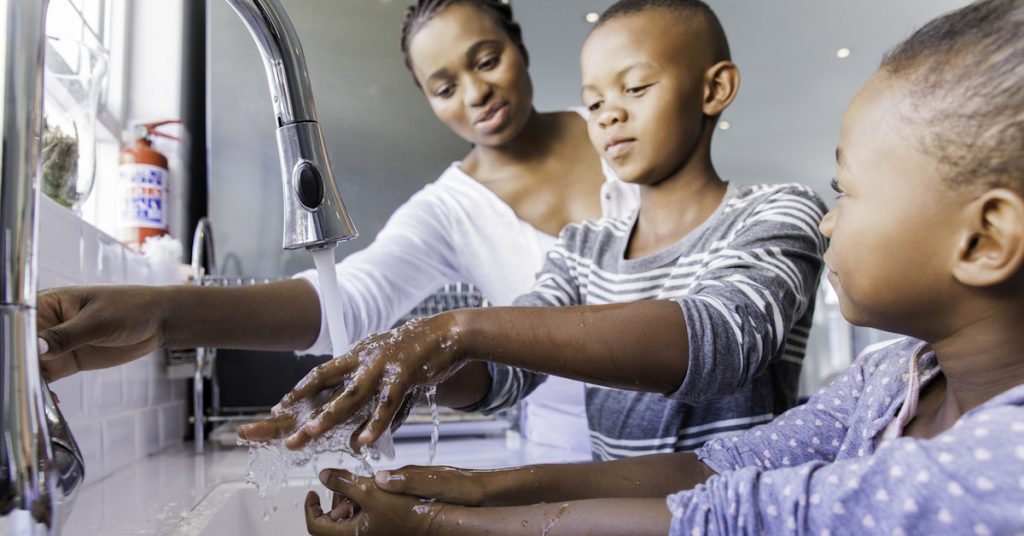 It's National Handwashing Week—are you doing your part to prevent the spread of germs? Keeping your hands clean through proper hand washing is essential when it comes to stopping harmful bacteria from spreading to other people. Hand washing is especially important during flu season, when germs are easily spread among others.
While you may already know about the importance of hand washing, you might not be aware of the proper hand-washing techniques. You might be wondering, "How long should you wash your hands?" or "How can I clean my hands if no running water is present?" If you wish to avoid illness by improving your hand hygiene, read on to learn more about this important practice.
How Do Germs Get Onto Hands?
Did you know that an estimated 1,500 bacteria live on just one square centimeter on your hand? While not all bacteria are harmful, many can cause illness. When you use the bathroom, harmful bacteria from feces can make contact with your hands. Without proper hand washing, these bacteria remain on the skin, exposing you to germs like salmonella and E. coli.
Germs are also present in the kitchen. Forgetting to wash your hands after preparing meats can sometimes lead to Salmonella poisoning, especially if you use your hands to prepare other foods.
Neglecting to follow the correct hand washing steps can also lead to respiratory illness. The flu virus can spread easily through sneezing and coughing, with water droplets infecting nearby surfaces. If these germs aren't removed through a hand washing procedure, they can be passed from person to person.
Why Should You Wash Your Hands?
Simply put, the importance of hand washing is that it removes germs from hands, preventing infection. Here are a few reasons why learning the correct hand washing steps is important:
Washing hands regularly prevents many germs from entering frequently touched areas like the nose and mouth.
When you don't wash your hands, germs can travel into foods or drinks. Sometimes, germs can multiply if the food or drink is at an unsafe temperature.
Following the correct handwashing procedure can prevent diarrhea, respiratory illness, and the flu. It may even prevent skin and eye infections from developing.
When Is it Necessary to Wash Your Hands?
There are multiple occasions where washing your hands is appropriate. Here are a few situations where you should fully wash and dry your hands:
Before, during, and after preparing food or drink
Before consuming food
Before and after taking care of someone who is sick
Before administering first aid to a cut or wound
After using the bathroom
After changing a child's diaper or cleaning a child who has used the bathroom
After touching an animal, its food, or its waste
After blowing your nose, sneezing, or coughing
After taking out the trash
What Is the Correct Hand-Washing Procedure?
Cleaning your hands properly is simple. Follow these hand-washing steps to prevent the spread of germs:
Use clean, running water to wet your hands. The water can be cold or hot. Then, turn off the tap and apply soap
Rub your hands together multiple times to lather the soap. Don't forget to clean between your fingers, nailbeds, and the backs of hands.
Fully rinse the soap from your hands.
Dry your hands fully using a clean towel, or allow them to air dry.
How Long Should You Wash Your Hands?
One of the most common hand-hygiene questions is, "How long should you wash your hands?" The medical experts at FastMed Urgent Care recommend that people wash their hands for at least 20 seconds. If you need a timer, hum the "Happy Birthday" song—once you've hummed it twice, your hand washing is complete.
What Should You Do if No Water is Available?
If you're without access to soap or running water, you may be wondering how to keep your hands clean. Alcohol-based hand sanitizers are recommended for those who are away from water. These solutions can reduce the number of germs on hands, but may not remove all of them.
Choose a formula that is at least 60 percent alcohol, and apply the product to the palm of one hand. Rub your hands together, making sure to cover all areas of the palm and fingers.
When combined with a flu shot, which is available at your local FastMed Urgent Care clinic, proper hand washing provides a significant defense against the flu virus. Keep your hands clean this year by following these simple hand-washing steps.
About FastMed
FastMed Urgent Care owns and operates nearly 200 centers in North Carolina, Arizona and Texas that provide a broad range of acute/episodic and preventive healthcare services 365 days a year. FastMed also provides workers' compensation and other occupational health services at all its centers, and family and sports medicine services at select locations. FastMed has successfully treated more than six million patients and is the only independent urgent care operator in North Carolina, Arizona and Texas to be awarded The Joint Commission's Gold Seal of Approval® for quality, safety and infection control in ambulatory healthcare. For more information about locations, services, hours of operation, insurance and prices, visit www.fastmed.com.