Nausea is an uneasiness of the stomach and typically happens before vomiting. Both can be caused by a number of conditions. The best way to treat nausea and vomiting is to drink plenty of clear liquids at a gradual pace.  You can also visit an urgent care clinic to get treatment for dehydration.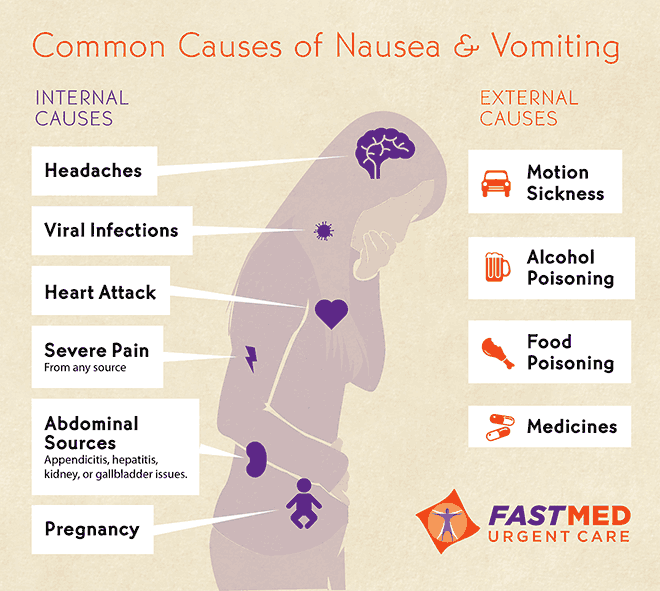 Call a Doctor if…
Signs of dehydration for more than 24 hours
Severe diarrhea or continue to vomit for longer than 1-2 days
Severe headache or stiff neck
Trouble breathing
Blood in your vomit
If nausea lasts for more than a few days for women, it may be a sign of pregnancy
Fever over 101 degrees
Severe chest or abdominal pain
Black or bloody stools
Preventing Nausea and Vomiting
Eat slowly. If you do not have an appetite, don't force yourself to eat.
Drink six to eight 8-ounce glasses of water every day
You can eat several small meals over the day instead of 3 large meals.
Avoid hard-to-digest foods (ice cream, chocolate, hot and spicy foods). Start with the BRAT diet which includes banana, apple sauce, rice, and toast. Chicken broth also might be helpful.
Erik Cohen, MD
Medical Director
FastMed Urgent Care
Mesa, AZ – Baseline Road & Signal Butte Road
Scottsdale, AZ off of McDowell Road
Scottsdale, AZ – East Shea Boulevard
Florence, AZ