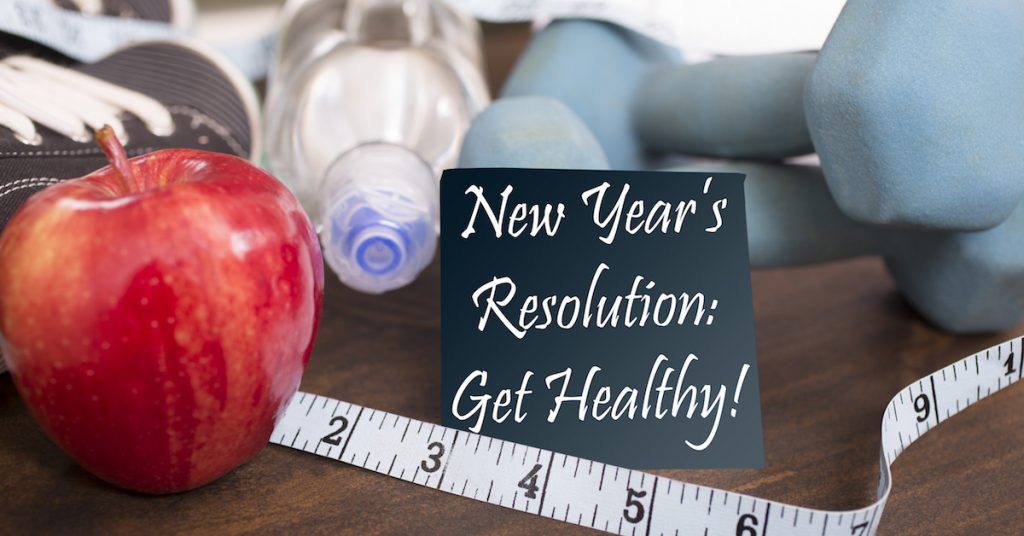 Each year, millions of Americans make healthy New Year's resolutions with the best of intentions, promising to eat better and exercise more. Unfortunately, grand, vague resolutions are much harder to stick with over the long term, leaving you feeling discouraged. In fact, almost 80 percent of resolutions have fallen to the wayside by February.
Breaking down your larger goals into smaller, achievable action items can help you achieve better health this new year. Here are five healthy New Year's resolutions to consider this January.
1. Eat Mindfully for Weight Loss
If you're like many Americans, you might be considering starting a New Year healthy eating plan to shed unwanted pounds. Instead of trying the latest diet craze, consider incorporating mindful eating practices into your routine. When enjoying a meal, turn off any electronic devices, and focus on the food's taste and texture.
Using a food diary, or measuring the foods you eat has been shown to reduce the number of calories you consume over time – as another way to be mindful about eating.
Taking the time to prepare a meal instead of relying on convenience foods can also help you practice mindfulness—and cut down on fat and sodium. Experiment with new vegetables and spices, and serve all items on smaller plates. Chew your food slowly, up to 25 seconds per bite.
Having a support system can make all the difference when it comes to changing your diet. Invite friends over to try your healthy recipes, and use a journal or calorie-tracking app to keep count of your meals.
2. Enjoy Lower Stress
When making a New Year's resolution for health, many people wish to eliminate stress—and for good reason. Working long hours and avoiding sleep can wreak havoc on your body over the long term. Stress can lead to headaches, muscle tension and pain, and even more serious conditions like high blood pressure and heart disease. Plus, the chronically stressed are more likely to overeat unhealthy foods.
Reducing alcohol and caffeine intake as part of a New Year healthy eating plan can also help you lower stress. Even though these substances may help you feel more relaxed temporarily, they may make you feel more anxious as your body works to process them.
3. Set Realistic Workout Goals
With so many people hoping to lose weight as part of their healthy New Year's resolutions, it's not surprising that gym memberships increase in January. Regular exercise offers a host of benefits, including increased energy and focus and improved cardiovascular health. However, getting started at the gym can be challenging if it's been some time since you worked out. Setting smaller fitness goals can help you stay committed and avoid burnout. Like, simply taking the stairs at work, or walking 20 minutes at lunch time.
Another one of the most helpful New Year health tips is to find a workout buddy who will hold you accountable. Group fitness classes and biking groups also are very motivating to new exercisers.
Much like a food diary, workout journals allow you to see your progress over time. Keep track of weights lifted and the number of repetitions, as well as running times or intensities. With consistent effort, you might be entering the next New Year with a brand-new physique.
4. Achieve Higher-Quality Sleep
If you've set a New Year resolution for health, getting better sleep can help you achieve it. A good night's sleep sets the foundation for healthy habits, helping you feel more alert and energized. Those who don't sleep enough are at a higher risk of type 2 diabetes and obesity, and they're more likely to experience chronic stress.
So, how can you get better sleep as part of your healthy New Year's resolutions? First, create an environment that's conducive to a good night's rest. Keep the bedroom cool and dark, and use earplugs to cut down on outside noise. And don't forget to reduce screen time before bed, which can lead to insomnia.
5. Drink More Water
Deciding to drink more water as part of your New Year healthy eating plan may seem like a small goal, but it offers big benefits. Drinking more water can promote weight loss, improve your complexion, and even reduce headaches. Keep a bottle on your desk, nightstand, bathroom sink, and other areas you frequent.
If you've avoided water due to taste, there are ways to make it more palatable. Adding fresh fruit like lemon, blueberries, or strawberries with a sprig of basil or rosemary can give your water a bit of flavor.
Sticking with healthy New Year's resolutions is possible when you focus on small goals each day. Try these useful tips from FastMed Urgent Care to improve your health in 2018.
About FastMed
FastMed Urgent Care owns and operates nearly 200 centers in North Carolina, Arizona and Texas that provide a broad range of acute/episodic and preventive healthcare services 365 days a year. FastMed also provides workers' compensation and other occupational health services at all its centers, and family and sports medicine services at select locations. FastMed has successfully treated more than six million patients and is the only independent urgent care operator in North Carolina, Arizona and Texas to be awarded The Joint Commission's Gold Seal of Approval® for quality, safety and infection control in ambulatory healthcare. For more information about locations, services, hours of operation, insurance and prices, visit www.fastmed.com.