Symptoms of oral herpes (known as herpes simplex 1 or HSV 1) can be frustrating but are very manageable with over-the-counter medications. Painful blisters forming around the mouth are most commonly associated with oral herpes but what about other symptoms like headaches?
Oral Herpes Causes and Symptoms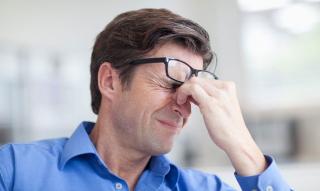 Oral herpes is a very common virus and can be passed from person to person by contact with an infected individual. This contact does not have to be sexual in nature and can be contracted through shared drinks and even razors. Because it is so easy to spread, oral herpes is one of the most common sexually transmitted diseases in the country.
Think you may have oral herpes?
Keep an eye out for blisters forming near the mouth, but also potentially on the tongue. These blisters rupture and become open sores which will then develop a yellow tinged membrane.

Sores generally last for three to fourteen days, during which time they can be contagious to others.
Other symptoms of herpes:
Salivating more than normal or having less pleasant breath than usual during this time could be an additional symptom of oral herpes.

Swallowing, chills, muscle pain, and hearing loss occur in rare cases.
Headaches and Oral Herpes
While headaches may not indicate oral herpes itself, they may indicate an outbreak, as the New York Times says, "Most cases of herpes simplex recur. The site on the body and the type of virus influence how often it comes back. The virus usually takes the following course:
The outbreak of infection is often preceded by a prodrome, an early group of symptoms that may include itching skin, pain, or an abnormal tingling sensation at the site of infection. The patient may also have a headache, enlarged lymph glands, and flu-like symptoms. The prodrome, which may last as short as 2 hours or as long as 2 days, stops when the blisters develop. About 25% of the time, recurrence does not go beyond the prodrome stage."
Seeking Medical Care for Oral Herpes Symptoms
If you begin displaying any or all of these symptoms, it is important you seek medical care as soon as possible. If you are looking for treatment, look no further than FastMed Urgent Care. We offer friendly, reliable service and are able to perform STD screenings in the comfort and privacy of one of our clean and convenient locations.
About FastMed
FastMed Urgent Care owns and operates nearly 200 centers in North Carolina, Arizona and Texas that provide a broad range of acute/episodic and preventive healthcare services 365 days a year. FastMed also provides workers' compensation and other occupational health services at all its centers, and family and sports medicine services at select locations. FastMed has successfully treated more than six million patients and is the only independent urgent care operator in North Carolina, Arizona and Texas to be awarded The Joint Commission's Gold Seal of Approval® for quality, safety and infection control in ambulatory healthcare. For more information about locations, services, hours of operation, insurance and prices, visit www.fastmed.com.