Rib pain can be extremely painful and dangerous because your ribcage protects several important organs, such as your heart and lungs. Pinpointing where your rib pain originates can help determine what is causing it, and seeking the advice of a medical professional can help treat it quickly.
FastMed Urgent Care is open every day of the year, requires no appointment, and offers on-site labs and x-rays. There was a time when you had only two choices for medical care: planning a doctor's appointment or biding your time in a crowded hospital waiting room. With FastMed, you will always have the care you need, when you need it.
What's This Pain Under My Left Ribcage?!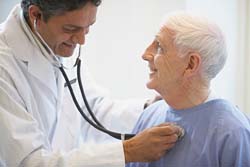 When it comes to rib pain, there are all sorts of causes. But paying attention to where the pain is coming from can help narrow down the origin. For instance, pain under your left ribcage is often associated with an enlarged spleen because your spleen sits directly under the left side of your ribcage.
What causes an enlarged spleen?
Infections such as Mononucleosis, syphilis, and malaria
Cancers such as Leukemia or lymphoma
Infiltrative diseases such as amyloidosis
Besides pain under my left ribcage, what are some other symptoms of an enlarged spleen?
Feeling full without eating
Anemia
Fatigue
Easy bleeding
Is there anything else that could be causing my rib pain?
Yes. Although common, spleen conditions are not the only causes of pain under your left ribcage. Here are some other conditions associated with rib pain:
Gas in the colon
Heartburn and acid reflux
Broken rib
Stomach ulcers
Irritable bowel syndrome
Without seeing a medical professional, it can be extremely difficult to understand your rib pain and what is causing it. In addition to providing high-quality, cost-effective medical care, FastMed believes that every patient should be treated with courteous attention and concern. The best part? We are right in your neighborhood! Find a FastMed clinic near you!