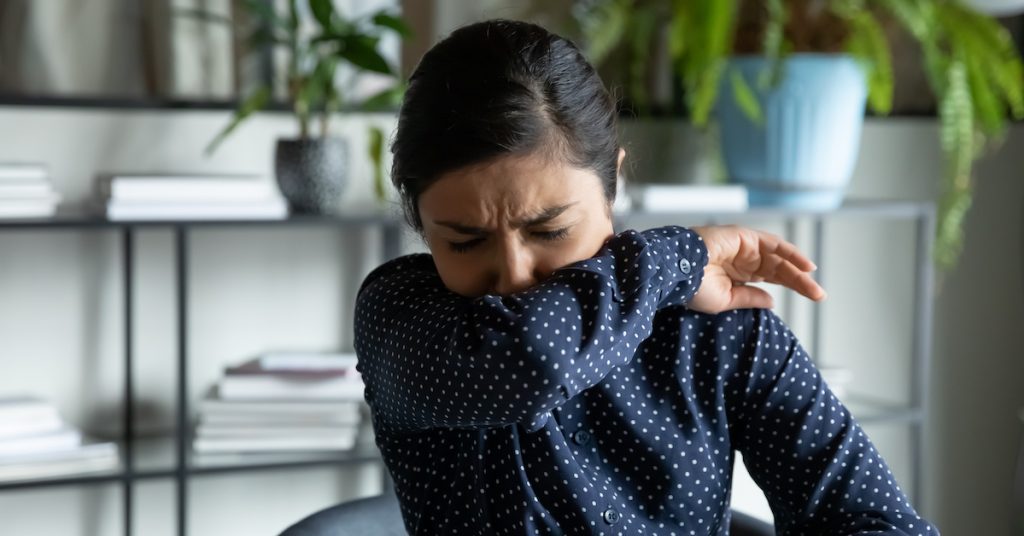 Are you a COVID-19 "long hauler" who still suffers from symptoms, even months after your recovery? When is it time to seek further medical attention? FastMed answers these questions about post COVID-19 syndrome and more.
The Long-Term Effects of COVID-19
Now that we're over a year into the pandemic, we're seeing that people who had COVID-19 may experience long-term symptoms that linger over time. A cough that won't go away. Constant fatigue. Painful headaches. A continued loss of smell or taste or, for the truly unfortunate, both. Even hair loss can occur in COVID-19 patients long after they've recovered from the virus.
So many aspects of COVID-19 are shrouded in mystery, and why these symptoms remain is certainly one of them. Commonly referred to as post COVID-19 syndrome, we don't know why some patients are affected and not others. Most people who have COVID-19 recover completely in a few weeks. But others may experience post COVID-19 syndrome symptoms for weeks or months after their recovery, even if they had mild versions of the disease.
Most people associate COVID-19 with the lungs and respiratory system, but the truth is that lingering COVID-19 symptoms can affect many different organ systems in the body—potentially leading to long-term health complications that need medical attention.
In for the Long Haul
"I just don't feel like myself."
"I have no energy."
"I can't catch my breath."
"I'm constantly in a fog."
People who exhibit COVID-19 syndrome symptoms for weeks or months after recovering from the virus are often called "long haulers" by the medical community and the media. Today, there are tens of thousands of long haulers who continue to fight the aftereffects of the COVID-19 virus long after their recovery, suffering a variety of symptoms that can greatly impact their lives. For some, these life-altering symptoms are still present several months later.
Common Post COVID-19 Syndrome Symptoms
Older people and people with serious medical conditions are most likely to experience post COVID-19 syndrome symptoms, but even young and otherwise healthy people can continue to exhibit symptoms weeks or months after infection.
The most common symptoms of COVID-19 syndrome that linger over time include:
Shortness of breath
Fatigue
Cough
Chest pain
Joint pain
Other reported symptoms include:
Difficulty thinking and/or concentrating (often called "brain fog" or "COVID fog")
Depression
Muscle pain
Headaches
Heart palpitations (when the heart beats too quickly)
It's easy to understand how these symptoms can impact your ability to conduct your life the same way you did before COVID-19. Researchers are currently studying post-COVID complications and their potential impact on long-term health, but we won't have answers for some time.
Protecting Yourself from Post-COVID Complications
Until we know more, one of the best lines of defense is being aware of post COVID-19 syndrome and the ways that persistent symptoms can damage your body. FastMed is here to ensure that you understand the potential complications and know the signs that you might need additional medical help.
According to researchers, anyone who has had COVID-19 should have a doctor closely monitor their organ function, especially if they have long-lasting symptoms or related illnesses. Chronic COVID-19 syndrome can lead to serious complications that affect many different organ systems in the body. These include:
Respiratory: Damage to the tiny air sacs (alveoli) in the lungs can cause long-term breathing problems.
Cardiovascular: Inflammation and/or clotting caused by COVID-19 can damage the heart muscle, potentially leading to heart attack, stroke, or heart failure.
Liver & kidneys: COVID-19 can weaken blood vessels and cause them to leak, contributing to chronic liver or kidney problems.
Neurological: Patients may experience an inability to smell or taste, difficulty concentrating, memory issues, or sleep problems. COVID-19 can also cause seizures or Guillain-Barre syndrome (a condition that causes temporary paralysis), even in young people.
Psychiatric: Patients may develop depression, anxiety, post-traumatic stress disorder, or other changes in mood, especially if they endured difficult medical procedures such as being placed on a ventilator.
Dermatologic: Patients may experience hair loss or frequent rashes.
If you think you may have been exposed to COVID-19 or are experiencing symptoms, all FastMed clinics have testing options available, including rapid testing, while supplies last.
About FastMed
FastMed Urgent Care owns and operates nearly 200 centers in North Carolina, Arizona and Texas that provide a broad range of acute/episodic and preventive healthcare services 365 days a year. FastMed also provides workers' compensation and other occupational health services at all its centers, and family and sports medicine services at select locations. FastMed has successfully treated more than six million patients and is the only independent urgent care operator in North Carolina, Arizona and Texas to be awarded The Joint Commission's Gold Seal of Approval® for quality, safety and infection control in ambulatory healthcare. For more information about locations, services, hours of operation, insurance and prices, visit www.fastmed.com.